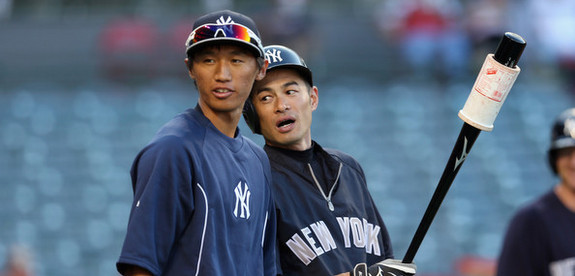 The Yankees are playing no good, very bad baseball these days. They can't hit and their rotation has gone from outstanding to average of late — 3.96 ERA over the last 30 days and 4.09 ERA over the last 14 days. The bullpen has been dynamite, but there's only so much those guys can do to help the team win. Someone needs to hit and someone needs to hand the relievers a lead. Here's the lineup that will faced the mushy shoulder of right-hander Tommy Hanson:
CF Brett Gardner
3B Jayson Nix
2B Robinson Cano
1B Mark Teixeira
DH Lyle Overbay
RF Ichiro Suzuki
LF Thomas Neal
SS Reid Brignac
C Chris Stewart
And on the mound is the rotation leader with a 9.1 K/9, right-hander David Phelps. He is actually starting tonight, I don't have my days mixed up again.
More perfect weather in Anaheim, but no surprises there. The game is scheduled to start at 7:15pm ET and can be seen on FOX. Sorry to those of you who will be blacked out, but then again the other teams might be more entertaining at this point. Enjoy.