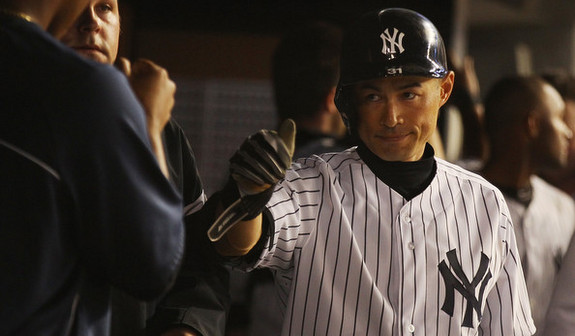 The Yankees had a chance to clinch of the series and a winning homestand last night, but they were unable to come through despite the best efforts of the offense. Today's rubber game pretty much determines if this is a good homestand or a bad one, and the Yankees could definitely use a good one given the nightmare West Coast trip they just returned from. Just find a way to win, there are no style points. Here's the lineup that will face left-hander Derek Holland:
CF Ichiro Suzuki
SS Jayson Nix
DH Robinson Cano
RF Vernon Wells
LF Zoilo Almonte
1B Lyle Overbay
2B David Adams
3B Alberto Gonzalez
C Austin Romine
And on the mound is the 2007 Kevin Lawn Award winners, right-hander Phil Hughes. That award is given annually to the best pitcher in the Yankees' farm system.
The weather is pretty great in New York, though it is hot with some humidity. No clouds or threat of rain, however. This afternoon's game is scheduled to start at 1:05pm ET and can be seen on YES locally and MLB Network nationally. Enjoy.
Site Note: Just a heads up, we're having trouble with the "riveravenueblues.com" address, but "riveraveblues.com" works just fine. Please update your bookmarks, etc.
Chat: Today's chat starts at 1pm ET, so join in.