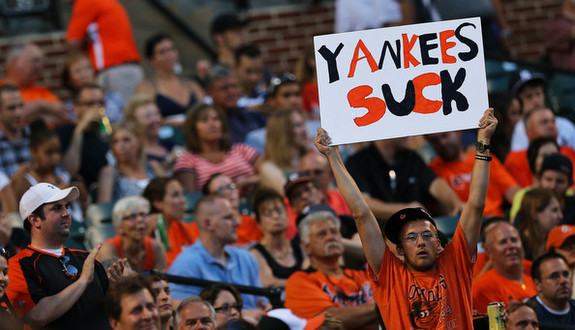 At the end of the night, the Yankees will be on pace for either 84 wins or 86 wins. Either way, probably not enough to qualify for the postseason. The good news is that paces mean very little. Some good health and a few smart trade deadline pickups could change New York's second half outlook dramatically, but for now they're stuck with one of the worst lineups in baseball and a pitching staff that has shown some cracks in the dam the last few weeks. The Yankees have already lost this important series to the Orioles, but at least tonight they can escape with a win. Here's the lineup that will face right-hander Chris Tillman:
CF Brett Gardner
RF Ichiro Suzuki
2B Robinson Cano
DH Travis Hafner
LF Zoilo Almonte
1B Lyle Overbay
SS Jayson Nix
C Chris Stewart
3B David Adams
And on the mound is the first 200-million yen pitcher in Hiroshima Carp history, right-hander Hiroki Kuroda. That's a touch more than $2M.
It was raining in Baltimore for most of the day, but that has cleared up and they should have no trouble getting the game in tonight. First pitch is scheduled for a little after 8pm ET and can be seen on ESPN. Enjoy.
Rotation Update: After last night's long relief appearance, Ivan Nova will not make a spot start against the Twins this coming week. The rotation will simply remain on schedule.