Got four questions for you this week. Remember to use the Submit A Tip box in the sidebar to send us anything — questions, comments, links, complaints, etc. — throughout the week.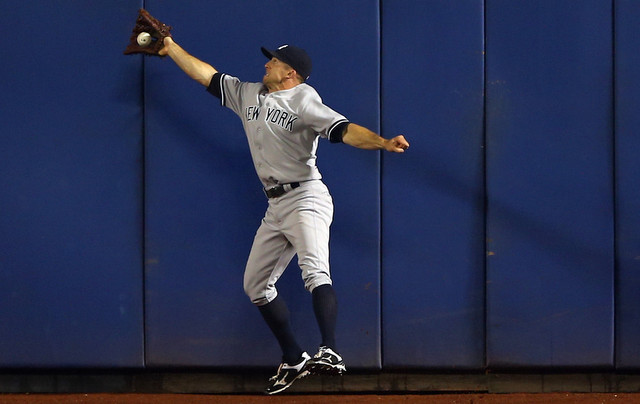 Paul asks: I know Brett Gardner was never really a highly talked about prospect, but I don't remember anything about him before making it to the show. Can you give a brief history of how the Yankees got and developed him?
You're right, Gardner was never touted as a top prospect. He was more of a second tier guy, someone I ranked 13th (2007), 19th (2008), and 11th (2009) in my annual preseason top 30 prospects lists. In retrospect, I under-rated his elite defense and should have had him higher. Not many prospects have an elite carrying tool, but Gardner did.
The Yankees drafted him in the third round of the 2005 draft out of the College of Charleston, signing him for a modest $210k. Gardner went to Short Season Staten Island that summer and put up a .752 OPS with 19 steals in 73 games. The Yankees sent him to High-A Tampa to start 2006 season, then bumped him up to Double-A Trenton at midseason after he hit to a 150 wRC+ with 30 steals in 63 games. He posted a 95 wRC+ with 28 steals in 55 games with the Thunder to close out the season.
Sent back to Double-A Trenton to start 2007, Gardner missed almost the entire month of May when an errant pitch broke his right hand. He hit to a 120 wRC+ with 17 steals in 52 total games for the Thunder before being bumped up to Triple-A Scranton and managing a 91 wRC+ and 21 steals in 45 second half games. The Yankees sent Gardner back to Triple-A to open 2008, where he put up a 134 wRC+ with 37 steals in 94 games while getting a few cups of coffee. He was in the big leagues for good in 2009, meaning he went from third rounder to big leaguer in the span of three and a half years. Not bad.
Brian asks: Suppose either Hiroki Kuroda or Andy Pettitte returns next season. Beyond CC Sabathia you have three rotation spots open. Let's say you can keep three of the following while the other two are, say, traded before the deadline for a corner outfielder with at least 1.5 years of team control left: Phil Hughes, Michael Pineda, Ivan Nova, David Phelps, Vidal Nuno. Who do you keep?
So I assume this means Hughes would be re-signed to a whatever contract? Of those five, I'd keep Hughes, Pineda, and Phelps without much of a second thought. Nova has been dreadful for a full year now and I have little faith in Nuno as a soft-tossing lefty who can't miss bats, especially in a small ballpark in the AL East. If Pineda comes back from the DL and pitches terribly or looks like a right-handed Nuno, then I'd probably take Nova over him.
Ultimately, I say keep all of these guys unless there happens to be a trade they just can't refuse. Most of them have minor league options, and that flexibility and depth is always great to have. Sabathia and Pettitte/Kuroda aren't getting any younger, plus young pitchers tend to go through ups and downs (in case you haven't noticed). Having a whole bunch of pitchers is a good thing! As badly as they need a bat, I'd much rather hold onto these guys and deal prospects.

Paul asks: Trades are frequently done for a Player To Be Named Later (PTBNL). Does that PTBNL ever end up being useful? Have the Yankees ever gotten a useful one? Or lost a useful one?
Every so often a PTBNL will turn into a useful player, but it's not common. Marco Scutaro might be the most famous PTBNL in recent history after going from the Indians to the Brewers in the Richie Sexson trade back in 2000.
I went all the way back to 1990 and dug up every PTBNL either traded by or acquired by the Yankees. Only five are noteworthy:
OF Lyle Mouton: PTBNL to White Sox for Jack McDowell in 1995. Mouton produced a 98 wRC+ from 1995-2001 as a part-time player for various teams.
RHP Jim Mecir: PTBNL to Red Sox for Mike Stanley in 1997. The Devil Rays plucked Mecir from Boston in the expansion draft a few weeks later, and he pitched to a 3.53 ERA (3.63 FIP) in 448.1 innings from 1998-2005.
3B Scott Brosius: PTBNL from Athletics for Kenny Rogers in 1998. I think we all know what happened here.
IF Joaquin Arias: PTBNL to Rangers for Alex Rodriguez in 2004. Arias was one of the Yankees top prospects at the time and he's bounced around as a utility infielder over the years. Won a ring with the Giants last year. Pushing the limits of "useful" here.
RHP Zach McAllister: PTBNL to Indians for Austin Kearns in 2010: McAllister has a 4.14 ERA (4.16 FIP) in 208.2 career innings for the Tribe, including a 3.43 ERA (4.22 FIP) in 65.2 innings this year.
It's worth noting the Yankees acquired IF Charlie Hayes as a PTBNL from the Phillies for Darrin Chapin in 1992. That was Charlie's first stint in pinstripes. He stayed with them in 1992 before being selected by the Rockies in the expansion draft after the season. New York eventually re-acquired him from the Pirates for the stretch drive in 1996. Otherwise, that's it. Five, maybe six noteworthy PTBNL's in the last 23 years.
Jaremy asks: Mariano Rivera struck out the side to beat the Mariners on Saturday. How many times has he struck out the side to register a save? How does that compare to his fellow closers?
You can thank the magic of the Baseball-Reference Play Index for this answer in advance. I'm going to limit this to one-inning saves since 1997, when Rivera officially got the closer's job. Here's the list (doesn't include yesterday's games, but I don't think that changes anything anyway):
I don't think it's terribly surprising Wagner tops the list with 35 instances of striking out the side for a save; he has highest K/9 in baseball history among pitchers who have thrown at least 500 innings at 11.92. He's actually tied with Lidge, who ranks third in the list above.
Rivera has only done it 14 times in the regular season believe it or not, but he's never really been a super-high strikeout guy either. He's been over a strikeout per inning just five times in his 17 years as a closer. Mo's thing is broken bats and weak contact, not racking up strikeouts and overpowering hitters.