Three outta four ain't bad. The Yankees managed to beat Felix Hernandez for the second time this season — technically, they beat the bullpen after he left the game, but who's keeping track? — on Sunday, giving them three wins during their four games in Seattle. Pretty cool. The score was 2-1.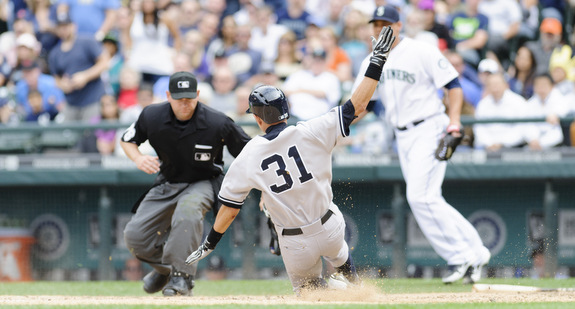 Bailed Out
There was a definite "wtf?" feel to the end of this game. The two teams were knotted at one in the eighth inning when all the crazy happened. Robinson Cano was hit by a pitch to leadoff the eighth, and before you knew it he was standing on second with two outs and Vernon Wells at the dish. There was no particular reason for Wells, who has been awful for about six weeks now, to bat against a right-hander in that situation, but there he was. Five pitches later, the inning was over on a ground out.
The Yankees got another gift to leadoff the ninth, as Ichiro Suzuki drew a five-pitch walk to kick things off. Jayson Nix bunted him over to second — Ichiro is on pace for 13 stolen bases this year, so so much for his speed game — but Reid Brignac (!) was allowed to hit with the go-ahead run in scoring position with one out in the ninth. If Lyle Overbay won't come off the bench in that spot, he has no business being on the roster. Brignac flew out to left and failed to even advance the runner.
Now, I get that left-hander Oliver Perez was warmed up and would have been brought into the game had Overbay pinch-hit for Brignac in the ninth, but I'd much rather take my chances with Overbay against Perez than with Brignac against anyone. In the eighth, righty Yoervis Medina was brought into the game specifically to face Wells, so the Mariners couldn't have countered with a southpaw had Overbay pinch-hit. I don't get it.
Thankfully, Chris Stewart bailed Joe Girardi out. The teacher's pet slapped a ten-hop single through the 5.5-hole on the left side of the infield, and I thought there was going to be a plate at the plate when I saw the outfielder scoop the ball as Ichiro was rounded third. That outfielder was Raul Ibanez though, and his throw was far enough offline for Suzuki to slide in safely. It was Stewart's first go-ahead hit after the fourth inning this season. Good timing.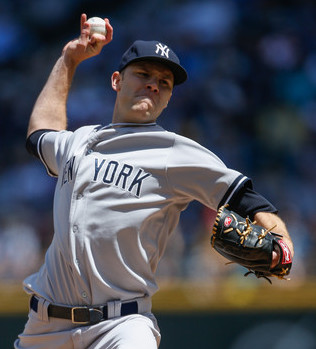 Out Of Control
The pitching line is great — one run on three hits and three walks in six innings — but I thought David Phelps was pretty shaky in this start, especially early on. He threw 19 pitches in the first and 26 pitches in the second, and four of the first eighth batters he faced saw a three-ball count. It wasn't looking good early on, particularly when Seattle strung together a double, a walk, and an infield single to tie the game at one in the span of four hitters in the second.
Phelps settled down though, needing just 54 pitches to complete innings three through six after using 45 pitches in the first two frames. He retired the final ten and 12 of the final 13 men he faced with exactly three balls leaving the infield. That ability to settle down following a shaky start seems to be a shared trait with the team's rotation, and I don't think it's a coincidence. I'm not saying they "feed off each other" so to speak, but the veteran guys have been there before and they're probably helping the younger guys along. Very nice outing by Phelps even if it wasn't always pretty.
Nailed Down
These last two games were not easy for David Robertson and Mariano Rivera. The combined to put three men on-base in 1.2 innings on Saturday, and on Sunday it was four base-runners in two innings. Robertson allowed a leadoff double before escaping the jam with a sac bunt and two strikeouts. His curveball was ridiculously sharp, as he threw six of eight for strikes (two whiffs). That was some serious Houdiniing.
Rivera, meanwhile, allowed a leadoff single to Kyle Seager — did it not seem like he hit the ball hard all series? — for the second consecutive game. Mark Teixeira turned a 3-6 double play to clean up that mess, but Raul Ibanez and Endy Chavez followed with a walk and a single to make a new threat. Mo escaped that with a fly ball. It seemed like Rivera pitched around Ibanez both times he faced him, which is just weird. I know Raul did some amazing things late last year, but geez, go after him.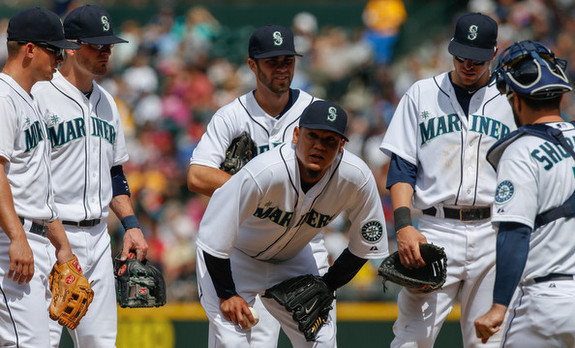 Leftovers
How hot is Brett Gardner? Four hits in five at-bats hot. He doubled, stole a base, and singled in the team's first run on Sunday. Gardner has now hit safely in 15 of his last 17 games, going 23-for-63 (.365) with six doubles, a triple, and three homers during that stretch. He's up to .284/.349/.453 (118 wRC+) on the season.
How crappy is the rest of the team? The other eight guys in the lineup went a combined 3-for-28 (.107), including a big fat 0-for-17 from the two through six hitters. Stewart was the only other player in the lineup with multiple hits, adding a bunt single to his game-winner. The Yankees did draw four walks though, so that's good. They've drawn at least four walks in only four of their last 15 games.
I think the PitchFX system at Safeco Field might be a little hot. It had Boone Logan sitting at 97.2 mph and topped out at 98.2 mph in his perfect inning of work. We've seen him sit 94-ish and bump 96 a few times over the years, but 98? That's new. Either way, he was awesome in the seventh between Phelps and Robertson.
Box Score, WPA Graph & Standings
I love a late-inning win as much of the next guy, but there have been a few too many graphs like this so far this year. Winning a few blowouts wouldn't hurt anyone. Anyway, for the box score and video highlights, go to MLB.com. For the other stats, go to FanGraphs. For the standings, go to ESPN. The Red Sox won while the Orioles beat the Rays, so the Yankees are one back of Boston and two up on both Baltimore and Tampa in the loss column.

Source: FanGraphs
Up Next
The Yankees are off on Monday and will open a three-game series against the Athletics in Oakland on Tuesday night. We've got about 700 lbs. worth of pitcher in the opener as CC Sabathia goes against former Yankee Bartolo Colon.