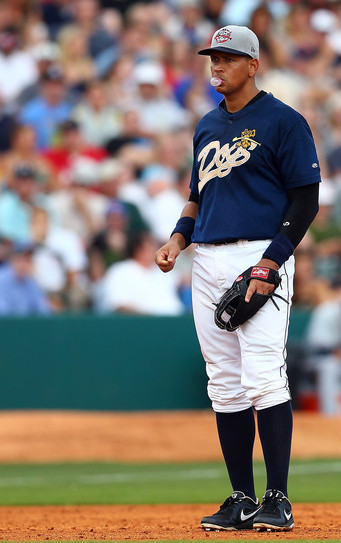 At some point very soon, perhaps even today, MLB will announce the rest of the suspensions stemming from their investigation into the South Florida performance-enhancing drug hub Biogenesis. Ryan Braun was the first casualty last week, mostly because he was willing to cut a deal and not file an appeal. Other players won't go down as easily, and among those other players is Alex Rodriguez.
Bill Madden, Teri Thompson, and Michael O'Keeffe reported yesterday that MLB either has (or will) offer A-Rod a deal that would require him to sit out the rest of this season and all of next season. If he doesn't accept that settlement, the league will attempt to use the mountains of evidence they have apparently obtained to ban him from baseball for life. Various reports indicate Alex will not agree to any kind of settlement and instead go through the appeals process and challenge the league head-on.
As far as the Yankees are concerned, a lifetime ban would be the best case scenario. Not only would they rid themselves of a big distraction, but they would be off the hook for the remaining four years and too-many-millions left on Alex's albatross contract. That's the best case scenario, but the best case scenario and most realistic scenario are not the same thing more often then not. As despised as A-Rod is, the union won't let the league end their highest paid player's career without a failed drug test and without a fight. It sets an awful precedent. There would surely be an ugly and lengthy legal battle.
Instead, the most realistic best case scenario for the Yankees might be a 250-game suspension, which is essentially the number of games he would miss by being suspended for the rest of this year and next. However, that 250-game suspension would be best served not this year and next, but next year and the year after. That would save them a huge, huge chunk of money against the luxury tax threshold — a suspended player's salary does not count towards the luxury tax calculation, nor do they occupy a 40-man roster spot — which would be more helpful in 2014 and beyond than it would in 2013.
By sitting out the rest of this year and next, the team would save approximately $37.1M in real dollars. That's A-Rod's salary plus the luxury tax hit for the rest of this season. If he sat out next year and the first 50 games of 2015, they would only save $31.5M or so, assuming they actually get under the $189M luxury tax threshold. Five and a half million bucks is a ton of money, even to a multi-billion dollar company like that the Yankees, so they'd prefer the suspension to happen as soon as possible to save the most money. The alternative would be to save $6.5M or so against the luxury tax threshold in 2015.
Here's the thing though: the Yankees don't get the choose. They're just along for the ride. Since A-Rod is reportedly going to fight any suspension, it's unlikely said 250-game would start this year. Several players are likely to appeal, meaning the process could take a while. Weeks if not months. Think of it as slowly peeling off the band-aid rather than pulling it off. Because of that, it would take something very unexpected — like, say, another quad injury — for Alex to not return to the team in 2013. Instead of saving a few extra million this year, the most likely scenario shaves cash off A-Rod's future luxury tax hit. That's an okay trade-off, at least in my opinion.
I truly believe the Yankees are doing all they can to delay A-Rod's return to the team in hopes of … I don't know. Maybe they don't even know. I guess in hopes that he would get banned and not return to the team ever? It's clear the two sides don't trust hate each other, and the club probably doesn't want to deal with the day-in, day-out aggravation even if he improves their lineup. And improve their lineup he would; it's hard to believe Alex would be worse that New York's current third base situation, which is the least productive in baseball.
Unless he a) gets hurt again, b) has his appeal moves to the front of the line, or c) surprisingly decides to settle, A-Rod is going to return to the team at some point soon whether the Yankees like it or not. Under the best case scenario, they would have to begrudgingly sit through another 50 or so games of him this year, when he could help push them into a playoff spot. He could be gone for a year and a half after that, potentially even forever. It would be easier for the Bombers to financially swallow releasing A-Rod or buying him out in the middle of 2015, when the suspension would expire and he'll be almost 40. That's the best of an awful situation.