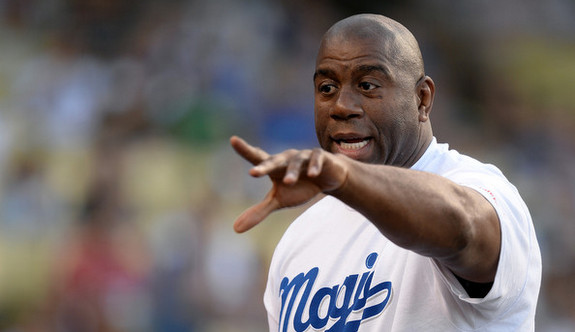 Since being purchased by the Magic Johnson led Guggenheim Partners group early last year, the Dodgers have turned into the West Coast version of the Yankees. Or at least what the Yankees were in the mid-2000s. They've spent a ton of cash and hoarded stars, and that has them sitting in first place in the NL West. They've won nine of ten games since the All-Star break and have a $147M pitcher on the mound tonight. Quite the pickle for the East Coast Yankees. Here's the lineup that will face Zack Greinke:
CF Brett Gardner
SS Derek Jeter
2B Robinson Cano
LF Alfonso Soriano
1B Lyle Overbay
RF Ichiro Suzuki
3B Jayson Nix
C Chris Stewart
LHP Andy Pettitte
Oh yeah, NL park so there's no DH. Get ready for some strategy!
I didn't even need to check the weather to know it's perfect baseball weather in Los Angeles. They haven't had a rain delay at Dodger Stadium in something like 12 years or whatever. Anyway, first pitch is scheduled for a little after 10pm ET and can be seen on YES locally and MLB Network nationally. Enjoy.
Roster Move: Nix (hamstring) was activated off the DL, obvioulys. David Adams was sent to Triple-A Scranton earlier in the week to clear a roster spot.
Injury Update: Alex Rodriguez (hip, quad) is scheduled to start another minor league rehab assignment on Thursday. It's unclear where that will happen or if he'll be suspended before that. Either way, that's still the plan.