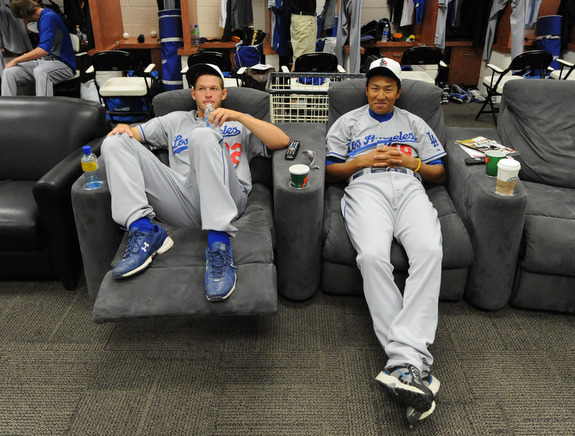 I'm not sure if I've been more excited for a game this season. Hiroki Kuroda and Clayton Kershaw are two of my most favorite pitchers to watch these days — both are in my top ten easily, probably top five, maybe even top three — and they'll square off tonight in the second game of this two-game series. Pitching matchups don't get a whole lot better.
Kuroda is returning to Los Angeles for the first time since leaving the Dodgers for the Yankees, and that is an intriguing storyline in and of itself. He's a better pitcher today than he ever was with the Dodgers, which is crazy considering a) he's older, b) he moved from spacious Dodger Stadium to tiny Yankee Stadium, and c) moved from the NL West to the AL East. The Yankees really need a win tonight and all Kuroda will have to do is out-pitch the best pitcher in the world. Piece of cake. Here's the lineup that will face Kershaw:
CF Brett Gardner
SS Derek Jeter
2B Robinson Cano
LF Alfonso Soriano
RF Vernon Wells
1B Brent Lillibridge — hah
3B Jayson Nix
C Chris Stewart
RHP Hiroki Kuroda
And on the mound is Kuroda, who pitched to a 3.45 ERA and 3.55 FIP during his four years with the Dodgers. In a year and two-thirds with the Yankees, he's got a 3.01 ERA and 3.72 FIP. Crazy how that works.
More great baseball weather in Southern California … at least I think so. The weather is always great there, no reason to think tonight will be any different. First pitch is scheduled for 10:10pm ET and can be seen on YES. Enjoy.
Injury Update: Alex Rodriguez (hip, quad) will play in a simulated game in Tampa tomorrow. They know where he'll play in Friday but aren't saying anything … Curtis Granderson (hand) will indeed join the team on Friday in San Diego as long he feels fine between now and then … Frankie Cervelli (hand, elbow) saw a doctor and still has some soreness. He's headed to see Dr. Andrews next and probably won't play again this season.