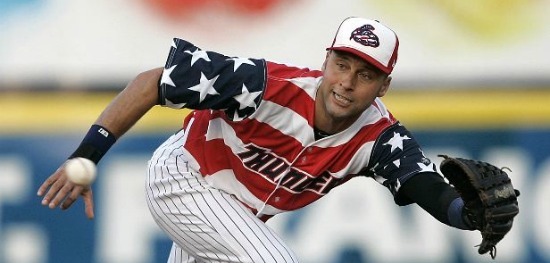 Winning three games out of any four-game series is an acceptable outcome, but the Yankees have a chance to get greedy this afternoon and finish off the sweep of the Twins. They've trailed in every game so far but have come back to win in the later innings each time, which is encouraging as long as you're willing to ignore that the starting pitcher put them in a hole in each game (by multiple runs twice). Hopefully David Phelps can buck that trend and the Yankees cruise to an easy road trip-ending win. It's Independence Day. Do it for America and the founding fathers.
Here's the lineup that will face rookie right-hander Kyle Gibson:
CF Ichiro Suzuki
LF Zoilo Almonte
2B Robinson Cano
DH Travis Hafner
RF Vernon Wells
1B Lyle Overbay
SS Luis Cruz
3B Alberto Gonzalez
C Austin Romine
And on the mound is the right-hander Phelps, who needs to shake off his nine-run, 2.1-inning disaster against the Orioles last weekend.
It's a great day for red coat ass-kicking in Minneapolis, with clear skies and a nice cool breeze. 'Murica weather. First pitch is scheduled for a little after 2pm ET and can be seen on YES locally and MLB Network nationally. Enjoy.