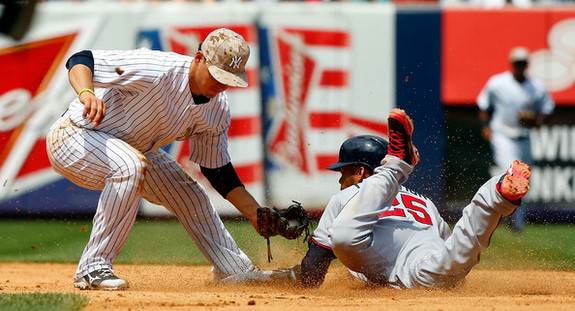 They call this the end of the first half even though the Yankees played their 81st game two weeks ago now. Eh, whatever, just roll with it. It would be nice to head into the All-Star break coming off a win, especially after yesterday's frustrating loss, so let's hope everyone can take care of business before their little mini-vacation. Here's the lineup right-hander Kyle Gibson will face:
CF Ichiro Suzuki
LF Zoilo Almonte
2B Robinson Cano
DH Travis Hafner
RF Vernon Wells
1B Lyle Overbay
SS Eduardo Nunez
3B Luis Cruz
C Chris Stewart
And on the mound is the non-All-Star for the first time in four years, left-hander CC Sabathia. Carry them into the break, big man.
It's hot and humid in New York, but there won't be any rain. That's a welcome change from the last week. First pitch is scheduled for a little after 1pm ET and can be seen on YES. Enjoy.
Injury Updates: Jayson Nix (hamstring) hit in the batting cage on Friday for the first time since going on the DL. He's been riding a bike as well. Nix will head to Tampa to continue his rehab today … Brett Gardner is "beat up," hence the day off … Derek Jeter (quad) was sick and away from the team yesterday. He's expected back today, however.
Rotation Update: The rotation out of the All-Star break will be Andy Pettitte, Hiroki Kuroda, then CC Sabathia. Phil Hughes and Ivan Nova will follow in some order after that.
Roster Update: Travis Ishikawa has cleared waivers and elected free agency. He was designated for assignment when Jeter was activated.