Six questions this week, but none of the answers are particularly long. Use the Submit A Tip box — which now sits below the Kabak Hat Watch — to send us anything throughout the week.
Kyle asks: I have two questions about Shawn Kelley. 1) How long is he under team control, and 2) If he were still on the Mariners having the season he is now and Brian Cashman wanted to acquire him, what would it take? More than just Abe Almonte this time right? Thanks
Kelley is in his first year of arbitration-eligibility and remains under team control in both 2014 and 2015. He's making $935k this year and probably won't crack $3-3.5M in either of the next two years unless he starts picking up saves.
Kelley, 29, has a 3.74 ERA and 3.19 FIP in 33.2 innings this year. His strikeout rate (13.37 K/9 and 36.2 K%) is ridiculous and he's been outstanding since the calendar flipped to May: 1.93 ERA and 1.78 FIP while stranding 17 of 18 inherited runners. Given his salary and years of team control, he would obviously cost quite a bit more an Almonte at the deadline. Probably two good but not great prospects. The Mariners had just designated Kelley for assignment and basically destroyed all their leverage when the Yankees acquired him. Credit to Brian Cashman & Co. for swooping in and grabbing him, Kelley's been some find for them.
Rob asks: What happens to the Yankees' luxury tax situation if Alex Rodriguez is declared "unable to perform" and then retires? I understand that insurance would cover 80% of his remaining salary but would it still count against the luxury tax? What if he's suspended?
Being "unable to perform" and retiring are two different things. Being "unable to perform" means you just stay on the DL and get paid. Retiring is walking away and forfeiting the rest of your contract. If A-Rod is declared "unable to perform," he still counts against the luxury tax even if insurance reimburses the team. If he's suspended, then his salary does not count against the tax. Long story short, the only way Alex won't count against the luxury tax is if he voluntarily retires or MLB suspends him. That's it.
Mo asks: Do you think the Yankees hurt themselves for future drafts by going over-slot for Aaron Judge? I think they could have used the pick next year to sign a college senior for $50k (doing this because if they don't sign the pick next year they lose it) and then used the huge amount of pool money from that pick to select players who dropped for signability reasons. Your thoughts?
Oh no, not at all. They went over-slot a relatively small amount, less than $150k. This wasn't going double-slot like they did for Slade Heathcott. I'd much rather have Judge now than the pick next year, no doubt about it. Prospects are like money — a dollar today is worth more than a dollar next year, which is worth more than a dollar in five years. Passing on Judge over such a small amount means losing a chip at next year's trade deadline, for example.
And just as a reminder, picks are now protected for two years under the new Collective Bargaining Agreement. Had Judge not signed, the Yankees would have been given the 33rd overall pick in next year's draft. If the player they took with that pick didn't sign, they would get the 34th overall pick the next year. If that player didn't sign, then they lose the pick.
William asks: How does the overage tax work? Will the Yankees get a bill after the signing period ends tomorrow? Who gets that money?
I don't know when the Yankees will get their bill — they are currently $114k over their pool, resulting in an $85.5k tax hit — but that money gets distributed to teams that didn't not pay the tax this year for next summer's draft. I don't know how it's distributed or if they even get the actual money, maybe they're just allotted some extra pool space and the cash goes into MLB's central fund. I'm sure the bill will arrive soon, I know the luxury tax check is due one week after the bills are sent out in December.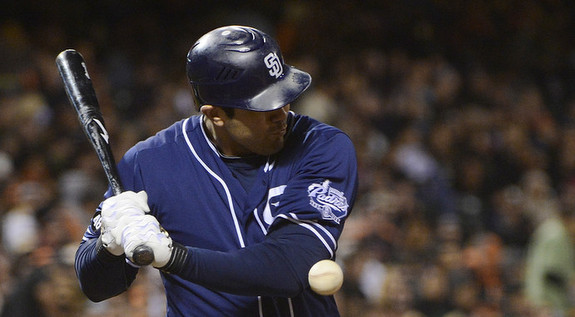 Ethan asks: There seems to be a ton of variance in HBP from player to player, year to year. Is there skill in taking a pitch? Does it just depend on batting stance/purposeful plate crowding, or are these players "disliked" enough to get thrown at more often than anyone else? It can mean 20-30 more times on base per season, which isn't exactly negligible, but I haven't heard anyone talk about this statistic at all.
Getting hit by pitches is definitely a skill. Or maybe it's not so much a skill as it is willingness to get hit. It's repeatable though. Carlos Quentin, who as been hit by at least 17 pitches in four of the last five years, is the poster boy for the whole "getting hit is a skill" thing. Mark Teixeira is usually good for double-digit hit-by-pitches each year, and Chase Utley always gets hit by a ton of pitches as well. The year-to-year hit-by-pitch leaders are typically the same guys.
I have not seen a good analysis about the ability to get hit by pitches. Like everything else, I imagine it stems from many things put together — crowding the plate, batting stance, how quick a player picks up the ball, and the type of arm protection someone wears could all be a factor. Injury risk is an obvious downside, so there's a balance between getting on-base more often and staying on the field more often. It's a topic I'd love to see explored more in-depth.
Jon asks: It's Mariano Rivera a legitimate Cy Young candidate and could he win?
Nah, not without an outrageously great second half. Mo's best chance to win a Cy Young was probably 1996 or 2008, when he was a legitimate four-win reliever without accounting for the fact that relievers are generally undervalued by WAR. Rivera's awesome and he's having a great year, but he's not a legitimate Cy Young candidate. It's not a lifetime achievement award.