When the weekend started, I would have been more than happy with the Yankees winning two of three. That's exactly what they did, but this series ended on a sour note because the third win was ripped away in the final moments. The Orioles stunned New York by the score of 2-1 in the series finale.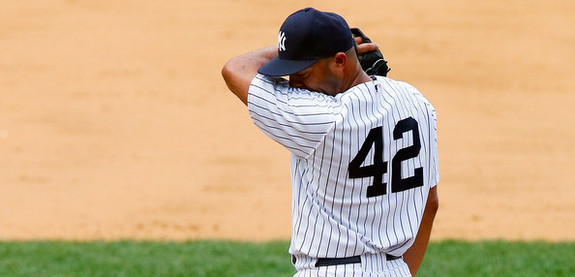 Blown
The Nick Markakis just foul homer was ominous. Mariano Rivera picked an unfortunate time to be something less than his historically great self on Sunday afternoon, blowing a one-run lead on a Markakis single and an Adam Jones two-run homer to left-center. The single really stung because it came in a two-strike count. It was Mo's second blown save in 31 chances this year.
Losing on a Rivera blown save is always a crummy feeling because we tend to take those games for granted. Got a lead with Mo on the mound? The game will be over soon and the win will be in the bank. That's why it's so shocking whenever he does blows a game and I can't get worked up over it. The Orioles beat the best and that's that. Tip your cap to them and move on to the next game.
Bad Hip? No Problem
After a sore left hip flexor forced the Yankees to essentially delay Hiroki Kuroda's start by two days, the veteran right-hander came out and tossed and absolute gem on Sunday afternoon. He held the Orioles to two doubles, one single, and one walk in seven scoreless innings, striking out four, and recording 15 of 21 outs on the infield. Fifty-three of his 88 pitches were strikes (60%), and although only 12 of 25 batters saw a first pitch strike, only three of the 25 saw a three-ball count.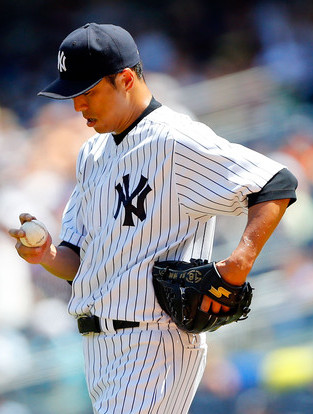 Obviously 88 pitches in seven innings is pretty economical, certainly enough to send him back out there for the eighth, but Joe Girardi decided to turn the ball over to the bullpen. It was a crazy hot day and Kuroda is coming off the hip thing, so it could have just been a precautionary move. He did leave a few pitches up and run some deep counts in the seventh inning. It seemed a little weird at the time but is really no big deal considering who is available for the late innings in the bullpen. The most important thing is that Kuroda was outstanding and showed no ill-effects from the hip problem. He was awesome, as he has been pretty much all year.
One Run
If nothing else, this game is a harsh little reminder that the Yankees still have a really crappy offense. They scored just one run in the game even though Jason Hammel was clearly laboring — 102 pitches in five innings, and he faced just seven of 22 batters with no one on-base — and nine runs total in the three-game series. Beating up on the Twins is great, but the offense has to do better than that against a division rival during super-hot weekend in Yankee Stadium.
The run scored in the second inning, when Zoilo Almonte led off with a walk before coming in to score on Eduardo Nunez's sacrifice fly. A Lyle Overbay single to get Almonte to third was mixed in. Nunez has now driven in three of the team's last five runs, which is not a good thing. He shouldn't be the guy they count on in those spots. The Baltimore bullpen retired 12 of 13 batters faced and the last Yankees hit came in the fifth. They had four men in scoring position all afternoon. The Yankees have needed a bat since Curtis Granderson was re-injured, but they're obviously content with counting on the injured guys to return to spark the lineup. That is very, very risky.
Leftovers
That play by Manny Machado you see above is on my short list of candidates for Defensive Play of the Year. Not only was he like, ten feet in foul territory with his momentum taking him towards the dugout, but he muffed the catch with his glove and had to barehand the ball. Just an outrageously great play. Man can that kid play.
The only Yankee with two hits was Chris Stewart, who went 2-for-2 with a walk and a stolen base. Replays showed he was clearly out on the steal though, hell he even took a step away from the bag so he could start walking to the dugout. The top two hitters in the lineup (Brett Gardner and Ichiro Suzuki) went 0-for-8 while the top five hitters went 2-for-18 with two walks. Ain't good enough.
David Robertson tossed a perfect eighth inning on nine pitches between Kuroda and Rivera, his fifth appearance in the last seven days. I was totally cool with working him hard this weekend given the importance of the series, but he's going to need at least one and probably two days off now. Girardi knows he can't keep running him into the ground like this all year.
This was Kuroda's eleventh start of at least seven scoreless innings since the start of last season, the most in all of baseball. Clayton Kershaw and Felix Hernandez have done it ten times each. Some company.
Box Score, WPA Graph & Standings
MLB.com has the box score and video highlights, FanGraphs some other stats, and ESPN the updated standings. The Yankees moved into a three-way tie in the loss column with the Orioles and Rays for both second place in the AL East and the second wildcard spot.

Source: FanGraphs
Up Next
The Royals are coming to the Bronx for a four-game set. Phil Hughes and former Oriole Jeremy Guthrie will be is the pitching matchup for Monday night's series opener. RAB Tickets is the place to go if you want to catch the game live.