I had a feeling this was a trap game. The White Sox came into Monday's game losers of ten straight and with the second worst record in baseball, but that didn't matter one bit. They took the series opener 8-1 and the game was over almost as soon as it started.
A-Rod Returns
With his record suspension just a few hours old, Alex Rodriguez made his season debut on Monday night. He went 1-for-4 with a strikeout at the plate, and the hit was a little jam shot bloop single to left that most non-Dayan Viciedo-level defenders catch with relative ease. His two batted ball outs were hit much harder — a fly ball just shy of the warning track in right-center and a fly ball at the warning track in left. He got jammed pretty good on the fly ball to left and still hit it pretty well, which was encouraging. I thought Alex looked fine defensively, though his throws kept sailing to the right of first base.
As expected, the ChiSox faithful booed A-Rod like the villain he is, and the boos carried over from his walk-up introduction right through each pitch of his at-bats. It wasn't merciless booing, he's certainly heard worse at home in Yankee Stadium, but it was just a taste of what he'll hear the rest of the season. This was the passive and mostly indifferent crowd of a non-contender. Just wait until some non-Rays division rival crowd tears into him. It'll be ugly, but A-Rod isn't stupid. He knew this was coming and he'll continue to go about his business. Sucks it'll be such a sideshow though.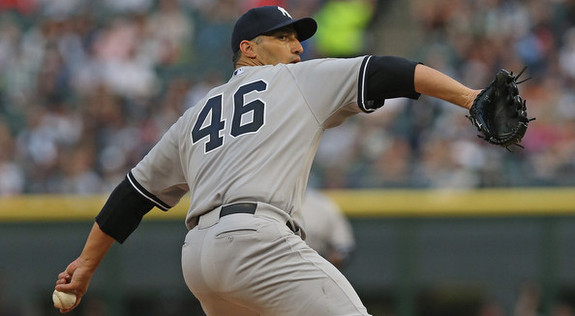 Old Man Andy
The last two starts were so promising. Andy Pettitte held the Rangers to two runs in six innings, then he held the Dodgers to two runs in seven innings. Both starts on the road too. After two rough months off the DL, it appeared as though Pettitte was finally headed in the right direction. We couldn't be any more wrong.
The White Sox, otherwise known as the worst offensive team in the AL, tagged Andy for seven runs on eleven hits (!) and one walk in just 2.2 innings of work. It looked like a tough luck outing at first because some softly hit balls were finding holes or deflecting off gloves, but that didn't last very long. The ChiSox were squaring Pettitte up pretty well in the second and third innings. It was a massacre. He had nothing. Less than nothing, really.
So, instead of feeling good about someone finally emerging as a third reliable starter behind Hiroki Kuroda and Ivan Nova, we're left wondering just what in the heck is going on again. Is Pettitte still hurt? Is he just washed up at age 41? Was it just a bad night? You almost hope he's hiding a minor injury because at least that would explain things. Pettitte was atrocious on Monday at a time when the team can't afford him to be anything but rock solid. For the first time in his career, Andy is part of the problem.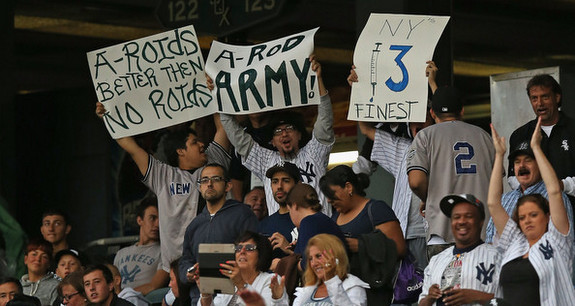 Leftovers
The Yankees scored their only run on a Brett Gardner sacrifice fly in the seventh inning, at which point the game had been all but decided. They failed to score despite having runners at second and third with no outs in the second inning, which pretty much told everyone what kind of night it would be. Vernon Wells had a pretty great game (3-for-4 with two doubles) and that's pretty much it. The Yankees scored no more than three runs for the fifth straight game and ninth time in their last eleven games.
Back-to-back sub-three inning starts will do a number on the bullpen, but it was rough watching Shawn Kelley throw 49 pitches (!) across two really laborious innings. It was the longest outing of his career and just the second time he's thrown more than 30 pitches in an appearance since April. Throwing a lot of pitches isn't necessarily a bad thing in and of itself, but a lot of high stress pitches is not ideal at all.
It wasn't until Joba Chamberlain got into the game in the seventh that the Yankees retired a leadoff man, surprisingly. You can always count on Joba to do something inane. The pitching staff walked seven batters total — a season-high for the ChiSox — their fourth highest walk total of the season and their second highest total when throwing only eight innings. They walked nine Athletics in eight innings back in June.
With the start, A-Rod became the ninth different starting third baseman the Yankees used this season. That's a new franchise record. Wells was the eighth different player to start a game at first base this year, though I have no idea if that's any kind of record. I'm guessing no, first base can be a revolving door.
Box Score, WPA Graph & Standings
MLB.com is the place to go for the box score and video highlights. FanGraphs has some more stats and the standings are at ESPN. Thanks to a clutch blown save by Chris Perez, the Yankees remain four games back of the second wildcard spot in the loss column. The division is just a pipe dream at this point, no to update that situation anymore.

Source: FanGraphs
Up Next
Same two teams on Tuesday night, when aces Kuroda and Chris Sale will toe the rubber for their respective teams. First Clayton Kershaw, now Sale. Poor Kuroda can't get a decent matchup lately.