Remember when a four-run deficit was pretty much a guaranteed loss? Thankfully those days are over. The offense picked up Ivan Nova after his rough second inning and helped the team to an 8-4 win.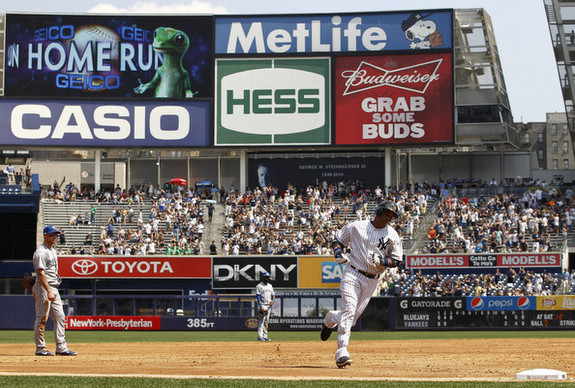 Two For Three
What's better than one three-run homer? Two three-run homers! What's better than two three-run homers? Two three-run homers in which one was Robinson Cano's 200th career dinger and the other came from number nine hitter Chris Stewart (!). That blast probably earned him another month as the starting catcher, but who cares at this point? The important thing is that it turned a one-run deficit into a two-run lead in the sixth inning.
The Blue Jays jumped out to an early 4-0 lead (more on that in a bit), but Cano's third inning blast brought the Yankees back to life. It was crushed out to dead center and pretty much classic Robbie. Stewart's blast came with two outs and after reliever Neil Wagner walked Jayson Nix. That's how you make them pay. If the Yankees are going to climb back into the postseason race, they're going to need unexpected production from guys like Nix and Stewart. Those two played in a big role in this win.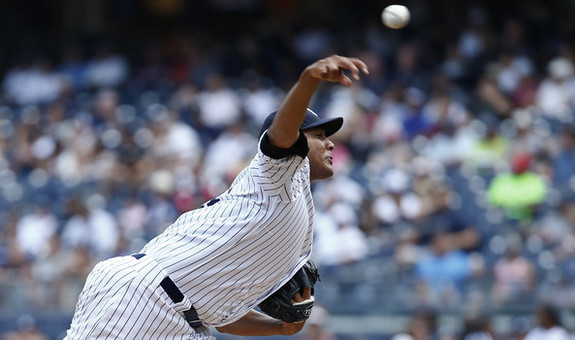 One Bad Inning
During his recent run of excellent starts, Nova dominated using his fastball/curveball combo almost exclusively. He rarely broke out his slider or changeup because he simply didn't need them. On Tuesday afternoon, we got a glimpse of what happens when half of that fastball/curveball combo isn't working. Nova had to rely on his heater because he couldn't locate his curve or keep it down in the zone, and the Blue Jays tagged him for four runs on four hits, a walk, and a hit-by-pitch in the second inning alone. Seven of the first 12 men he faced reached base.
To his credit, Nova settled down after that and followed with 4.1 scoreless innings. He retired 12 of the final 17 men he faced, and three of the five exceptions were infield singles. All told, Nova held the Jays to those four runs on eight singles, one double, and two walks in 6.1 innings. He only struck out two and, for the first time since June 23rd, he failed to complete at least seven innings of work (as a starter). That was eight starts ago. Last year, Nova gets knocked out of this game in the third or fourth inning. One of the keys to his recent success has been the ability to adjust and toss up zeroes after a rough inning. That's a very good development.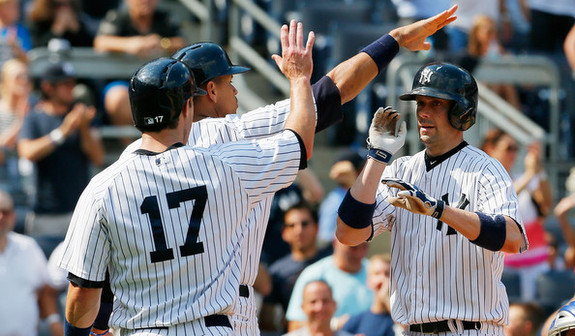 Leftovers
Biggest moment of the game: Shawn Kelley getting the scorching hot Brett Lawrie to fly out to center to end the seventh inning. The bases were loaded and the tying run was in scoring position after Kelley walked two batters, but he escaped the jam. That was a huge out. Kelley has now allowed just two of 35 (!!!) inherited runners to score this year. That's absurd. Off the charts.
Ichiro Suzuki went 2-for-5 with two runs scored and is now sitting on 3,999 career hits between Japan and MLB. Obviously the caliber of competition in Japan is lower than it is over here, but that's still an awful lot of hits. He's got 2,721 career hits in the big leagues after just 12 seasons and four and a half months. That's nuts.
With the homer, Cano became the 15th player in franchise history with 200 long balls. He has a chance to climb into 12th place on the team's all-time homer list before the end of the season. Robbie went 4-for-4 and doubled in an insurance run in the seventh. He was a triple shy of the cycle.
Nix (1-for-2 with two walks) and Brett Gardner (1-for-4 with a sac fly) chipped in an insurance run the bottom of the eighth. Alex Rodriguez singled and walked and is hitting .320/.414/.480 in 13 games since coming off the DL. That's do just fine. Curtis Granderson singled and Lyle Overbay walked. The Yankees scored at least eight runs for the fifth time in their last seven games. So awesome.
Kelley (19 pitches), Boone Logan (six pitches), David Robertson (12 pitches), Joba Chamberlain (14 pitches), and Mariano Rivera (eight pitches) all appeared in the game, so their availability for the second game of the doubleheader is unclear. I don't get the point of using Joba if his leash is one base-runner with a four-run lead in the ninth.
Box Score, WPA Graph & Standings
Check out MLB.com for the box score and video highlights, FanGraphs for some other stats, and ESPN for the updated standings. The Yankees have moved passed the Royals in the second wildcard race via percentage points. They're six back right now, but obviously there is a whole slate of night games to be played.

Source: FanGraphs
Up Next
Let's play two! The Yankees and Blue Jays will play the second game of the day-night doubleheader in a few hours, with first pitch scheduled for 7:05pm ET.