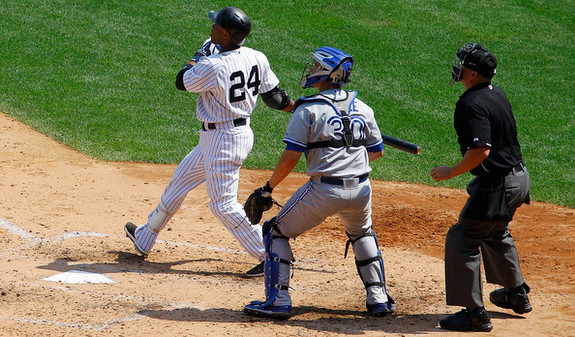 A win usually makes for a pretty good day in Yankeeland, but two wins definitely qualifies as a great day. The Bombers have a chance to sweep today's doubleheader against the Blue Jays after using a pair of three-run homers in this afternoon's come from behind win. Considering where they sit in the playoff race, taking two games in one day would be pretty huge. Here's the lineup that will face left-hander Mark Buehrle:
CF Brett Gardner
RF Vernon Wells
2B Robinson Cano
LF Alfonso Soriano
DH Alex Rodriguez
1B Mark Reynolds
SS Eduardo Nunez
3B Jayson Nix
C Austin Romine
And on the mound is right-hander Phil Hughes. The Yankees have lost his last three starts, five of his last seven starts, eight of his last eleven starts, and and 12 of his last 16 starts. It's tough to put together any kind of lengthy winning streak with this guy going every five days. Hughes needs to pitch better in his final six weeks as a Yankee if the team wants to sneak into the postseason.
Like I said before, the weather's great and there's no threat of rain. Obviously Nunez's hamstring is feeling better as well. First pitch is scheduled for 7:05pm ET and can be seen on My9. Enjoy.