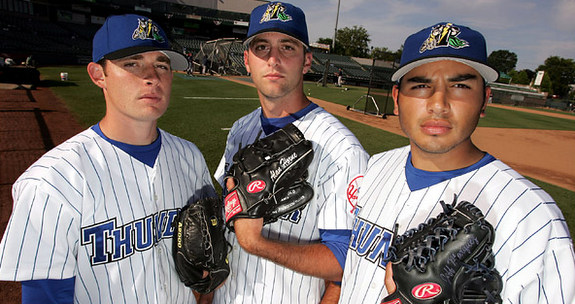 Six years ago, the Yankees had arguably the best trio of young right-handed pitching prospects in baseball in Phil Hughes, Joba Chamberlain, and Ian Kennedy. Not a single one of them turned into a legitimate above-average starter. Kennedy had an excellent year with the Diamondbacks in 2011, sure, but he's trending downward and comes into this afternoon's start with a 5.23 ERA (4.59 FIP). Hughes is consistently mediocre and Joba is a (bad) reliever. Something about the best-laid plans grumble grumble.
Anyway, the Yankees have a chance to win this three-game series against the Padres today after winning last night's game, and a win would give them a winning record on a five-game West Coast swing before heading to Chicago to play the awful White Sox. Kennedy will be making his first start for the Padres following last week's trade, the second of his career after the Bombers shipped him to Arizona as part of the Curtis Granderson three-team deal. He has never faced the team he originally broke into the big leagues with. Here's the lineup that will face IPK:
RF Ichiro Suzuki
2B Robinson Cano
LF Alfonso Soriano
CF Curtis Granderson
1B Lyle Overbay
SS Eduardo Nunez
3B Jayson Nix
C Austin Romine
RHP Phil Hughes
It's another perfect baseball weather day in San Diego. You can't not get jealous even watching on television, but then again the weather in New York is damn near perfect today as well. First pitch is scheduled for 4:10pm ET and can be seen on YES. Enjoy.
Injury Updates: Derek Jeter (quad) had an MRI last night, nut the results are not available yet … David Phelps (elbow) will see the doctor on Monday … in case you missed it earlier, Michael Pineda is headed for tests on his stiff shoulder.