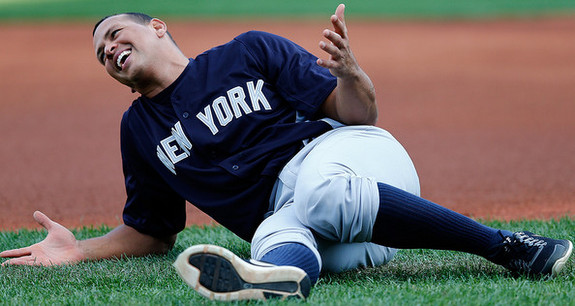 No matter who you're playing, it's really hard to sweep a doubleheader. The Yankees split their previous two doubleheaders this season but don't really have that luxury anymore. Every game and every win is extremely important from here on out. Sweeping the Blue Jays today would help their slim postseason chances but getting swept would nearly bury them. Their margin for error is that small. Here's the lineup that will face right-hander Esmil Rogers:
CF Brett Gardner
RF Ichiro Suzuki
2B Robinson Cano
DH Alfonso Soriano
3B Alex Rodriguez
LF Curtis Granderson
1B Lyle Overbay
SS Jayson Nix
C Chris Stewart
And on the mound is right-hander Ivan Nova, who is coming off his first shaky outing since officially rejoining the rotation in early July. He allowed just three runs in seven innings against the Angels, but they did tag him for a season-high ten hits. Shake it off.
No concerns about the weather today at all. It'll be hot and sunny with a little bit of humidity, but no threat of rain. They won't have any trouble getting the two games in. First pitch for the first game is scheduled for 1:05pm ET and can be seen on YES. Enjoy.
Roster Update: Preston Claiborne has rejoined the team as the 26th man for the doubleheader. By rule, he has to go back to the minors tomorrow
Injury Updates: Eduardo Nunez (hamstring) is still day-to-day, but yesterday's MRI did come back negative. It's still tight but they hope he can play the second game tonight … Derek Jeter (calf) will play in a simulated game and run the bases today for the first time since being placed on the DL.