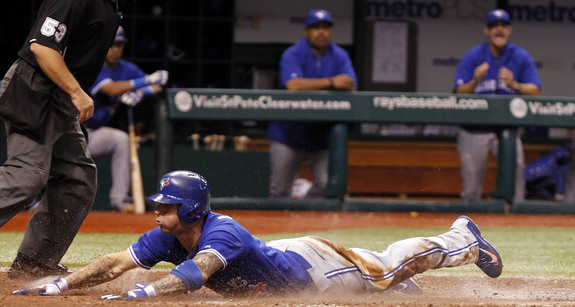 Four games in three days. Thanks to a May 19th rainout, the Yankees will play their third doubleheader of the season today as the Blue Jays come to town for the third and final time in 2013. New York split their previous two doubleheaders — one with the Indians and one with the Dodgers. They've also won eight of nine meetings against the offseason champs so far this year, and these two clubs will play seven times in the next nine days.
What Have They Done Lately?
Like the Yankees, Toronto was off on Monday. They lost two of three to the Rays this past weekend and have dropped seven of their last eleven games. The Jays are 12-18 in the second half and 57-67 with a -37 run differential overall, good for last place in the AL East. They're seven games back of New York in the loss column.
Offense
With an average of 4.5 runs per games with a team 99 wRC+, the Blue Jays are basically a league average offense. OF Colby Rasmus (122 wRC+) and former Yankee OF Melky Cabrera (86 wRC+) are both on the DL and will not return this series. SS Jose Reyes (117 wRC+) is day-to-day with a knee issue and could be back in the lineup as soon as this afternoon.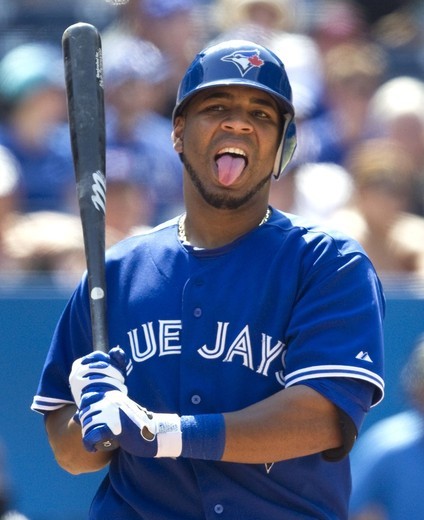 Manager John Gibbons' lineup is anchored by the two big right-handed bats: 1B Edwin Encarnacion (146 wRC+) and RF Jose Bautista (134 wRC+). Encarnacion has more extra-base hits (57) and walks (65) than strikeouts (52). He's become a truly elite power hitter these last two years. The other regulars you'll recognize are 3B Brett Lawrie (104 wRC+), C J.P. Arencibia (70 wRC+), and DH Adam Lind (124 wRC+), who always seems to crush the Yankees.
With Cabrera and Rasmus hurt, the rest of outfield is filled out by LF Rajai Davis (83 wRC+), CF Anthony Gose (74 wRC+ in limited time), and OF Kevin Pillar (-100 wRC+ in very limited time). IF Maicer Izturis (63 wRC+) and IF Munenori Kawasaki (67 wRC+) handle middle infield duty while UTIL Mark DeRosa (104 wRC+) will sub in against southpaws. Backup C Josh Thole (33 wRC+ in limited time) rounds out the bench. Needless to say, Toronto's lineup is much less potent without Reyes in the leadoff spot.
Starting Pitching Matchups
Tuesday Game One: RHP Ivan Nova vs. RHP Esmil Rogers
I'm not sure who is starting what game of the doubleheader for either team, but these are the four guys getting the ball later today. Rogers, 28, has a 4.91 ERA (4.61 FIP) in 102.2 innings as a true swingman this summer — 14 starts and 23 relief appearances. His walk (2.72 BB/9 and 6.8 BB%) and ground ball (46.4%) rates are strong, but the strikeout (6.22 K/9 and 15.7 K%) and homer (1.31 HR/9 and 15.2% HR/FB) totals are not. Rogers is a two-fastball (mid-90s two and four-seamers), three-offspeed (mid-80s slider and changeup, low-80s curve) pitcher out of the rotation, and it's worth noting he has a massive platoon split — righties have gotten him for a modest .316 wOBA while lefties have tagged him for a .389 mark. The Yankees have seen Rogers seven times since the start of last year, but never once as a starter.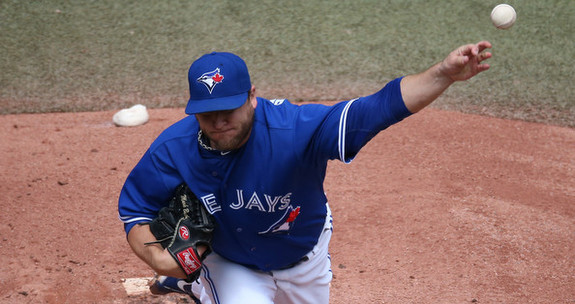 Tuesday Game Two: RHP Phil Hughes vs. LHP Mark Buehrle
The 34-year-old Buehrle has gotten over his early-season "welcome to the AL East" struggles and now owns a solid 4.29 ERA (4.18 FIP) in 25 starts. That's pretty much the book on him, right? Solid. Buehrle has a career-high strikeout rate (6.06 K/9 and 15.6 K%) this year, but his walk rate (2.35 BB/9 and 6.1 BB%) is its highest in more than a decade as well. Still, that's pretty good. He gets a decent amount of grounders (44.1%) but isn't particularly adept at limiting the long ball (1.09 HR/9 and 10.6% HR/FB). Buehrle is the definition of a crafty lefty, a kitchen sink kinda guy. His two and four-seamer fastballs both sit in the mid-80s while his cutter is a touch lower in the low-80s. An upper-70s changeup and low-70s curve are his top offspeed offerings. Although he's never had much of a platoon split, Buehrle has fared better against lefties (.288 wOBA) than righties (.338 wOBA) this season. The veteran-laden Yankees have seen former ChiSox southpaw plenty over the years, including three times a few months. They typically hit him hard.
Wednesday: LHP Andy Pettitte vs. RHP R.A. Dickey
I don't think the Blue Jays were expecting a 4.49 ERA (4.78 FIP) when they acquired the reigning NL Cy Young Award winner over the winter, but that's exactly what the 38-year-old Dickey has given them in 26 starts. Every time it appears he's ready to get on a roll and dominate, he throws up a clunker. Dickey's peripherals — 6.84 K/9 (17.9 K%), 3.05 BB/9 (8.0 BB%), 1.44 HR/9 (13.0% HR/FB), and 41.0% grounders — have taken significant steps back across the boards. I guess that's how you go from Cy Young to a mid-4.00s ERA. He's a knuckleballer, as you know, but in the past he used two distinct knuckleballs — a soft one in the mid-70s and a harder one in the low-80s. Dickey has lost the hard knuckler for whatever reason and now consistently sits in the mid-70s with the pitch. He throws it roughly 90% of the time and will use a low-80s fastball as a get-me-over-pitch. Lefties (.355 wOBA) have hit him harder than righties (.300 wOBA). The Yankees have seen Dickey a few times over the years thanks to interleague play with the Mets, but earlier this season he held them to three runs in seven innings.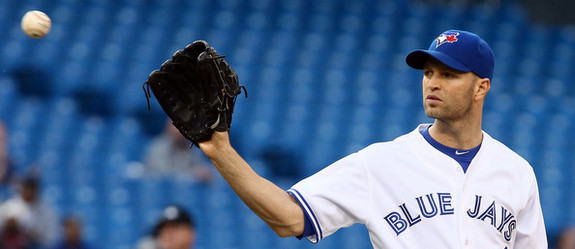 Thursday: RHP Hiroki Kuroda vs. LHP J.A. Happ
Three months ago, the 30-year-old Happ was carted off the field after taking a line drive to the side of the head. He suffered a very small skull fracture, but the reason he missed so much time was a knee injury — he twisted his leg underneath him as the fell to the ground following the line drive and sprained a ligament. Happ has made three starts since returning from the DL and has pitched quite well in two of them, and overall he owns 4.93 ERA (4.09 FIP). The southpaw has missed enough bats (7.11 K/9 and 17.7 K%) and kept the ball in the park (0.73 HR/9 and 5.4% HR/FB), but his walk (4.56 BB/9 and 11.3 BB%) and ground ball (34.4%) rates are well-below-average. Happ is a five-pitch guy, sitting right around 90 mph with both his two and four-seamer. Both his slider and changeup come in in the low-80s, his curveball in the mid-70s. His platoon split (.287 vs. .335 wOBA) is modest. Happ held New York to three runs in six innings earlier this year and hasfaced them a few other times in recent seasons, including during the 2009 World Series while with the Phillies.
There has apparently been some talk of starting Adam Warren on Wednesday — the Yankees will need a spot starter no later than Saturday due to the doubleheader — and pushing everyone back, which would allow Kuroda to start against the Rays over the weekend. That's preferable given the playoff situation and all that. They could always start Warren on Thursday or Friday instead, it doesn't have to be Wednesday.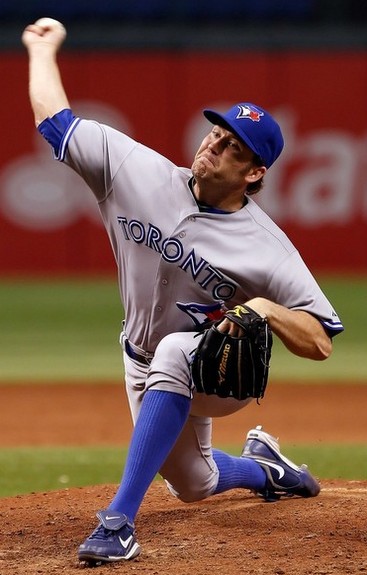 Bullpen Status
As I said before, the Jays were off on Monday, so their bullpen is as fresh as can be for mid-August. Closer RHP Casey Janssen (2.72 FIP) has been stellar, but primo setup man RHP Steve Delabar (2.44 FIP) is out with an elbow problem. Forgive me while I self-promote, but read this. LHP Brett Cecil (2.97 FIP) and RHP Sergio Santos (3.21 FIP in limited time) are now handling setup duties. LHP Darren Oliver (4.16 FIP), LHP Aaron Loup (3.54 FIP), RHP Neil Wagner (3.63 FIP), and RHP Brad Lincoln (5.35 FIP) fill out the rest of the seven-man relief corps.
The Yankees are in good bullpen shape thanks to yesterday's off-day, though Warren might not be available after throwing 57 pitches on Saturday. Both Boone Logan and Shawn Kelley have made three appearances in the last five days, but neither has thrown more than nine pitches in a game since Thursday. Check out the Bullpen Workload page for exact recent reliever usage details. For the latest and greatest on the Blue Jays, check out Drunk Jays Fans and Tao of Stieb.