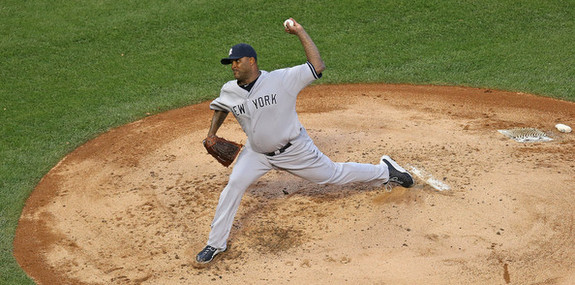 The Yankees' five-game winning streak came to a screeching halt last night as the Rays roughed up Hiroki Kuroda, and now it's up to CC Sabathia to stop the bleeding. The Bombers can't afford any kind of prolonged longing streak, even two losses in a row at this point. Sabathia has to be stopper he was as recently as last year. This year's CC won't suffice. Here's the lineup Joe Girardi is running out there against reigning Cy Young Award winner David Price:
RF Ichiro Suzuki
SS Eduardo Nunez
2B Robinson Cano
LF Alfonso Soriano
3B Alex Rodriguez
DH Vernon Wells
CF Curtis Granderson
1B Mark Reynolds
C Austin Romine
And on mound is Sabathia, who never seemed to pitch well at Tropicana Field even when he was at his best these last few years.
I don't know what the weather is like in St. Petersburg but it doesn't really matter because of the roof. First pitch is scheduled for 7:10pm ET and can be seen on YES. Enjoy.