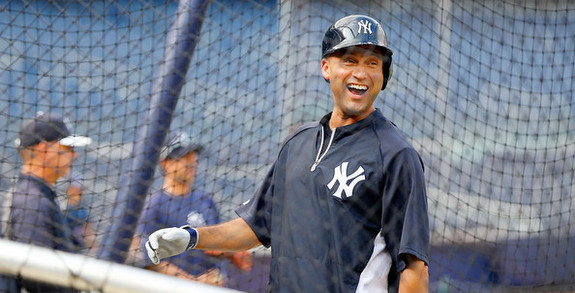 For the third time this season, Derek Jeter is coming off the DL to rejoin the Yankees following a leg injury. His return lasted all of one game the first time before a quad injury sidelined him for more than two weeks. The second time it was four games before a calf injury sent him back to the DL. Obviously the Yankees and Jeter are hoping the third is a charm and the Cap'n will stay on the field for the rest of the regular season (and playoffs!).
Barring a surprise waiver trade in the coming days, the Yankees are now as healthy and full strength as can be. This is it, this is the team. We don't have to wait for any more injured players to return*. Jeter's return boosts the lineup and whatever intangible qualities he offers boost the clubhouse. His mere presence helps the team in a way I can't explain. The Yankees with Jeter are a much better team than they are without him regardless of what he's hitting. Very few players transcend on-field production like that.
Here's the lineup that will face reigning NL Cy Young Award winner R.A. Dickey:
CF Brett Gardner
SS Derek Jeter
2B Robinson Cano
LF Alfonso Soriano
DH Curtis Granderson
3B Alex Rodriguez
1B Lyle Overbay
RF Ichiro Suzuki
C Austin Romine
And on the mound is right-hander Phil Hughes, who has actually put together two straight quality starts, including six innings of two-run ball against the Blue Jays last week. Needless to say, he needs to do that again.
The Yankees are playing in another domed/retractable roofed stadium, so the weather doesn't really matter. If you're curious, it's supposed to rain on-and-off in Toronto these next few days. First pitch is scheduled for a little after 7pm ET and can be seen on YES. Enjoy.
* I've said this before.