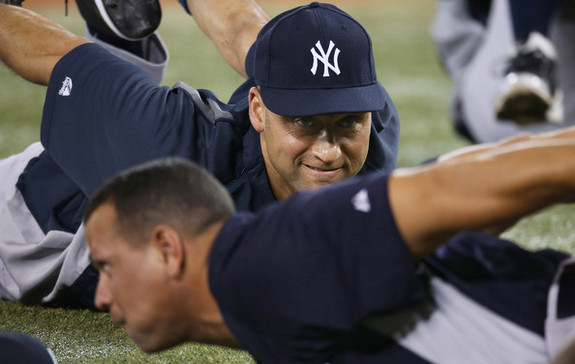 Three losses in four days really has a way of taking the air out of the optimism balloon. The Yankees were flying high before heading to Tampa over the weekend, winning five straight and ten of 12 while playing some really good (Tigers and Red Sox) and really bad (Angels and Blue Jays) teams. The games against the good teams are tough enough, but it's these games against the bad clubs where the Yankees have to fatten up their win total. Losses like last nights, in which the offense couldn't sustain a rally and the starter couldn't get out of the fifth, are the kind that lead to the team playing golf and not baseball in October. Here's the lineup that will face left-hander J.A. Happ:
CF Brett Gardner
SS Derek Jeter
2B Robinson Cano
LF Alfonso Soriano
3B Alex Rodriguez
RF Curtis Granderson
DH Vernon Wells
1B Mark Reynolds
C Chris Stewart
And on the mound is left-hander Andy Pettitte, who has pitched well of late but seems to be running into a wall somewhere in the 85-90 pitch range. It's happened in each of his last two starts.
First pitch is scheduled for a little after 7pm ET and can be seen on YES. Try to enjoy.