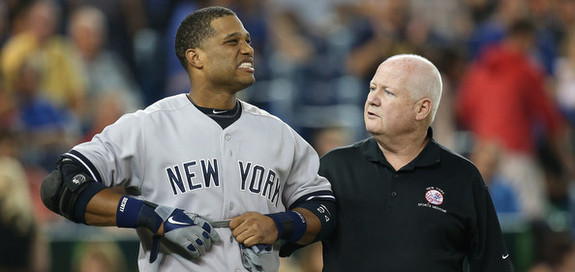 For the first time this season and the first time in 175 games dating back to last year, Robinson Cano is not in the Yankees starting lineup tonight. He is day-to-day with a left hand contusion after being hit by a J.A. Happ pitch last night. With the off-day tomorrow, it's no surprise they're resting him tonight and hoping the two consecutive days off have him ready to go for the Orioles series come Friday. Assuming he won't come off the bench at some point, this will be Robbie's first full game off since August 15th of last year, when a stiff neck sidelined him for a day. #lazy
Here's the lineup Joe Girardi is running out there against right-hander Todd Redmond:
CF Brett Gardner
SS Derek Jeter
DH Curtis Granderson
LF Alfonso Soriano
3B Alex Rodriguez
1B Lyle Overbay
2B Mark Reynolds — Eduardo Nunez and his sore knee didn't make it through batting practice
RF Ichiro Suzuki
C Chris Stewart
And on the mound is right-hander Hiroki Kuroda, who is coming off his worst start of the season. The Yankees need him to get back to pitching like a true ace if they want to have any chance at the postseason.
First pitch is scheduled for a little after 7pm ET and can be seen on YES. Enjoy.