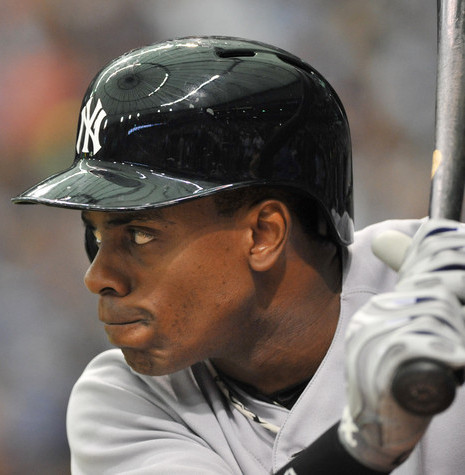 Homeruns are fun, and no one is having more fun right now than Alfonso Soriano. In 30 games since returning to the Yankees, Soriano has hit eleven homers, including several dramatic late-inning game-winners. The Bombers may not make the postseason this year, but it won't be because he didn't deliver after coming over from the Cubs. Soriano has been excellent and a major shot in the arm for the offense (and, somewhat surprisingly, the defense as well).
From 2011-2012, no one had more fun that Curtis Granderson. He led all of baseball with 84 homers during those two seasons, ten more than tied-for-second Miguel Cabrera and Ryan Braun. The self-proclaimed "not a power hitter" was baseball's premier power hitter until a pair of fluke hit-by-pitch injuries sabotaged his 2013 season. Oddly enough, homeruns are the reason Granderson is being overlooked right now. Soriano is stealing the show.
In 24 games since coming off the DL, Curtis is hitting .291/.412/.456 (140 wRC+) with three homers, six steals (in seven attempts), 17 walks (17.5%), and 25 strikeouts (25.8%). The power production isn't the same as it has been in recent years, but hopefully that will come around as he gets further away from the forearm and hand fractures. Granderson does have a .196 ISO in his last 15 games after putting up a .107 ISO in his first nine games back, so that's encouraging. (Also: Hooray arbitration endpoints.)
Instead, Granderson's recent production has come in the form of on-base ability. He reached base three times (two singles and a walk) in last night's blowout win over the Blue Jays and has reached base at least once in 20 of his 22 starts since rejoining the team. Curtis went 0-for-4 in his first game off the DL and 0-for-4 in Friday's series opener against the Rays. That's it. Heck, he's reached base at least twice in 12 of those 22 starts. That ridiculous 17.5% walk rate isn't being padded by intentional walks (just one) or hit-by-pitches (zero) either.
Because he is a high-strikeout hitter, Granderson was stereotyped as someone who rarely walked in recent years. I have no idea why people think someone who strikes out a lot doesn't walk much, usually the exact opposite is true, but that line of thinking does exists. Granderson doesn't fit the bill at all though, his career walk rate (10.3%) is well-above-average and he's been even better as a Yankee (11.4%). He has also consistently ranked among baseball's leaders in pitches per plate appearances throughout his career. Walks require working deep counts and strikeouts are a byproduct. They come with the territory.
Obviously a 17.5% walk rate is probably not something Granderson will be able to maintain long-term. Only two guys — Jose Bautista (20.2% in 2011) and Adrian Gonzalez (17.5% in 2009) — have managed a walk rate that high over a full season in the last five years. You would expect that number to come down and his power production to go up in the coming weeks, but the season is almost over. There's no guarantee Granderson's walk and power rates will regress to his career norms — or, really, to his current talent level — before the end of the season. Instead of being a power hitter, he might be more of an on-base guy for the Yankees this year.
Either way, Granderson has been very productive for New York since coming off the DL. The shape of that production has been a little different than what we've come to expect — instead of a power-heavy 140 wRC+ it's been an on-base heavy 140 wRC+. That's perfectly fine. Production is production, and frankly the Yankees probably need the on-base skills more than the power right now given the rest of the roster. The rank 17th out of the 30 clubs with a 7.7% walk rate, their lowest as a team since 1991. Soriano's homers are stealing the show, but Granderson has been outstanding as well these last few weeks.