Three losses in four games was not part of the "crawl back into the postseason picture" plan, especially since it could have very easily been four losses in four games. The Yankees lost just their second game of the season to the Blue Jays on Monday night, dropping what felt like a lopsided 5-2 contest.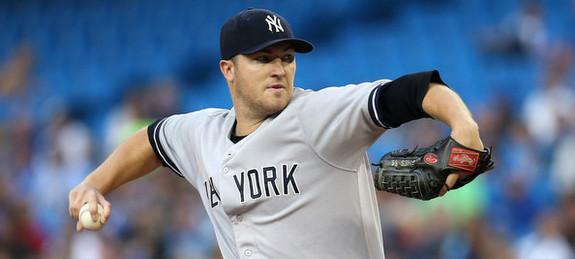 No Chance To Win Every Fifth Day
After two straight quality starts, Phil Hughes went back to being one of the very worst pitchers in all of baseball on Monday night. He allowed five runs in 4.2 innings of work, though, to be fair, one run scored when Kevin Pillar managed to bloop a two-out single to center on a pitch that was basically in the dirt. Another one or two came across after Ichiro Suzuki dropped a hard-hit but very catchable fly ball in right. Still, Hughes was awful. Seven hits, three walks, three strikeouts, couldn't get out of the fifth awful. Awful. AwPhil.
Journeyman left-hander David Huff picked up the rest of the bullpen with some high-quality long relief after that, holding the Blue Jays to one walk and no hits in 3.1 scoreless innings. He struck out five and recorded eight of his ten outs on the infield. Between this game and last week's relief appearance, Huff has held Toronto to one hit in 8.1 scoreless innings in his last two outings. That's pretty awesome. Unsurprisingly, Joe Girardi was non-committal when asked if Huff would take Hughes' spot in the rotation. That decision wasn't going to be made in the five minutes between the 27th out and the post-game interview. The Yankees obviously should consider it though.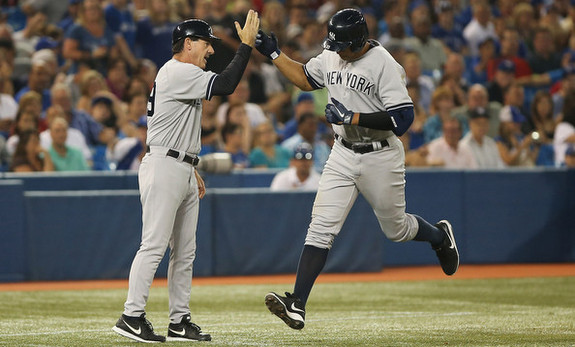 Oh Yeah They Only Scored Two Runs
Regardless of what happened on the mound, it's really hard to win when you only score two runs. The first run was all about Brett Gardner's speed. He drew a walk to start the game, moved up to second on a passed ball, moved over to third on Derek Jeter's slow ground ball to short, then scored on Robinson Cano's grounder to second. Hooray smallball, I guess. Alex Rodriguez created the second run with one swing — he hit a solo homer to right to leadoff the fifth. For the fourth straight game, the Yankees scored no more than three runs.
The Bombers had a chance to really blow this one open in that fifth inning, after A-Rod homered. Two singles (Ichiro and Gardner) and a walk (Jeter) loaded the bases with two outs for Cano, exactly the guy the Yankees wanted at the plate. Robbie's been killin' the ball lately, and he hit one of R.A. Dickey's knuckleballs really hard … just not hard enough. The inning ended on a loud fly ball to deep center field. Cano was picking on the wrong part of the park. Alex's blast knotted the game at two, but after that inning, just three of the final 15 men they sent to the plate reached base.
Leftovers
Jeter's return was mostly forgettable. He went 0-for-3 with a walk, a strikeout, and a double play at the plate while not being tested with anything more than a routine play at shortstop. Jeter did see 20 pitches in four at-bats though, which is nice. The Yankees lacked team plate discipline and the willingness to work the count for the first four months of the season. They've gotten that element back in recent weeks, at least somewhat.
Two round number milestones in this game. First, A-Rod's homer was the 650th of his career, making him the fifth player in history to go deep that many times. He was also the fifth player to homer 649 times, but that's besides the point. Second, Gardner's fifth inning single was the 500th hit of his career. A whole lot of players have done that. Still pretty cool though. Congrats to both.
Curtis Granderson and Alfonso Soriano both singled and stole bases. Soriano swiped third for the second straight game. Austin Romine also singled and walked. He's up to .233/.280/.322 (63 wRC+) on the year, which is pretty amazing considering how terrible he was prior to the All-Star break (-2 wRC+!). The kid needs to play everyday. Every single day.
Box Score, WPA Graph & Standings
For the box score and video highlights, MLB.com is the place to go. FanGraphs and ESPN have some other stats and the updated standings, respectively. The Athletics beat the Tigers, so the Yankees are again five games back of the second wildcard spot in the loss column. Cool Standings has their postseason odds at 7.6%. It's getting late early, folks.

Source: FanGraphs
Up Next
Same two teams on Tuesday night, the middle game of the three-game set. Lefties Andy Pettitte and J.A. Happ will match up for the second time in less than a week.