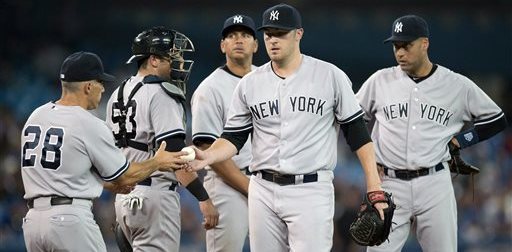 In what became an unfortunate running theme for this season, Phil Hughes did not complete five innings of work nor did he give the Yankees a reasonable chance to win on Monday night. His latest dud featured five runs (three earned) and ten base-runners in just 4.2 innings against a Blue Jays team without Jose Bautista or any other member of their starting outfield. Some guys named Ryan Goins, Moises Sierra, and Kevin Pillar went a combined 3-for-5 with a walk, a sac bunt, and a sac fly though. Think about that.
That performance has Phil sitting on a 4.91 ERA — that ranks 80th out of 85 qualified starting pitchers, by the way — and 4.55 FIP in 135.2 innings across 25 starts, an average of just 5.1 innings per start. This isn't a stretch of four or five bad starts, Hughes has been awful all year. Easily the weak link in the rotation, which is hard to believe when CC Sabathia ranks 78th (!) out of those 85 qualifiers with a 4.81 ERA. I really hate what Sabathia has become this year, but I digress.
"It's been very difficult," said Hughes to Bryan Hoch following last night's game. "Every time I feel like I make some progress the last couple times out, it seems like you have these hiccups and it's the way the whole season has gone. It's been difficult, it's been a struggle. I guess every time you have one of these outings I try and look at the positive. I still have the opportunity to pitch in big games where it really matters and that's all I can do. I can't get down on myself or negative all the time. I just have to stay confident and aggressive every time they give me the ball."
Therein lies the rub: the Yankees shouldn't give Hughes the ball anymore, at least not as a starter. Not if they're serious about winning and making a run to the postseason. They're five games behind the Athletics for the second wildcard spot in the loss column and have a 7.8% chance of making the playoffs according to Baseball Prospectus. There are only 31 games left in the season and no margin for error, at least not enough of one to continue running Hughes out there every fifth day. A change has to be made if they want to have a chance.
"Right now [Hughes is] in our rotation," said Joe Girardi to Hoch. "We haven't talked about taking him out of our rotation. I think he had a walk that scored; a couple walks hurt him today. We didn't make the play behind him and it looks a lot different if it's three runs in five innings."
Replacing Hughes will have to be an outside-the-organization thing because the team's sixth (David Phelps), seventh (Vidal Nuno), and eighth (Michael Pineda) starters are all hurt. Adam Warren has been solid overall (3.69 ERA and 4.80 FIP), but he has a 5.30 ERA and 5.85 FIP since mid-May. That's rough. As bad as Hughes has been, I find it hard to believe Warren would be a rotation upgrade. David Huff has been impressive in two long relief outings against the lowly Blue Jays but otherwise has a 5.25 ERA and 4.74 FIP in almost 300 career innings. He's the best in-house option and that really, really bites.
Joe has already written about trading for Dan Haren, and yesterday Derrick Goold said the Nationals want "a group of prospects" for the right-hander. Who knows what that means. Haren has been awesome in nine starts (and one relief appearance) since coming off DL (2.53 ERA and 3.09 FIP) and is almost certainly the best starter the Yankees will find on the market at this time of year. Edinson Volquez? Erik Bedard? Joe Saunders? Volquez (6.01 ERA) and Joe Saunders (4.91 ERA) have been as bad or worse than Hughes despite pitching in much more favorable ballparks. Bedard has made no secret of his dislike of big cities. There isn't much help out there.
At the very least, the Yankees should use Thursday's off-day to rearrange the rotation and make sure Hughes does not face the Orioles this coming weekend. They can push him back to the White Sox series next week. That has to happen, the series against Baltimore is way too important. The team needs to figure out a way to replace Hughes for the rest of the season — I thought they should have done that prior to the trade deadline — if they want to have a chance at making the playoffs in Mariano Rivera's final season. Phil is out of rope. Things need to change.