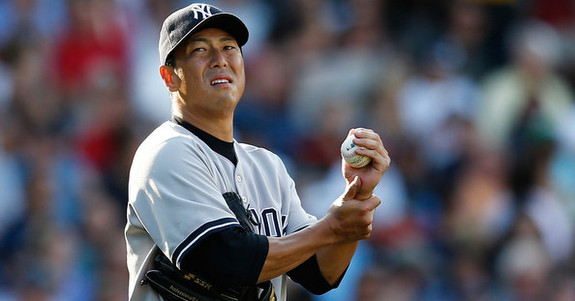 Later today, the Yankees will send their ace to the mound in the rubber game against the last place Blue Jays. It won't be CC Sabathia. He's pitched his way out of ace-hood this year. It'll instead be Hiroki Kuroda, the All-Star snub who led the AL in ERA up until a few starts ago. The veteran right-hander heads into tonight's game with a stellar 2.71 ERA and 3.45 FIP in 26 starts. Excellent numbers no matter how you slice 'em.
Lately though, the 38-year-old Kuroda has been something less than an ace. He gave up seven runs and a career-high four homers against the Rays last time out, and in his start before that he surrendered a career-high eleven hits to the Red Sox. Every pitcher has a bump in the road at some point, it's inevitable during the 162-game season, but seeing Kuroda go through it is a little unsettling. He isn't exactly young and the Yankees need every win possible. If he suddenly became ineffective, their playoff hopes would be crushed.
Kuroda, as you surely remember, was dynamite for the Yankees last season as well. He did run into a wall right around start #25 though, enough of a wall that he stopped throwing his usual between-starts bullpen session in September. That's a pretty big deal. When a pitcher has to alter his routine to remain fresh and effective, you know he's running on fumes. Here Hiroki's pre- and post-wall numbers for reference:
| | IP/GS | ERA | FIP | K% | BB% | BABIP | Opp. ISO | Opp. OPS |
| --- | --- | --- | --- | --- | --- | --- | --- | --- |
| Starts 1-25 | 6.2 | 2.96 | 3.60 | 18.6% | 5.7% | 0.275 | 0.144 | 0.674 |
| Starts 26-33 | 6.2 | 4.44 | 4.48 | 19.1% | 5.9% | 0.314 | 0.198 | 0.801 |
Despite the fatigue, Kuroda's velocity did not drop off down the stretch. You can see his start-by-start fastball velocity graph right here. No decline at all. Instead, the fatigue showed up in a BABIP and power spike. Not every increase (or decrease) in BABIP is luck-related. Kuroda may have been more hittable down the stretch because he was gassed and hitters were able to get better swings against him. Tired pitchers tend to make more mistakes, and more mistakes usually result in more hits allowed. That's typically how it works.
"It was really strange; [Kuroda] just didn't have his stuff tonight," said Joe Girardi to Mark Feinsand following the team's loss to the Rays on Friday. "He kept trying to find it and find it, but I didn't think his slider was extremely sharp and I didn't think he had the great command of his fastball tonight."
Stuff that wasn't as crisp as usual could be a sign of fatigue, but we really don't know. After all, two subpar starts against the Red Sox and Rays shouldn't be all that surprising. Those are two of the five best offenses in baseball. That said, Kuroda's age and the fact that he hit a wall around this time last year make his performance something worth monitoring going forward. That's obvious, right? If he starts to stink every five days, it's a problem.
The Yankees were in much better shape at this time last year because Sabathia and Phil Hughes were pitching anywhere from good to great. Nowadays they're getting pounded every five days and Kuroda's importance to the team is much greater. He has to be the stopper, the guy that extends winning streaks and ends losing streaks. If he runs out of gas these last few weeks like he did last season — for what it's worth, Kuroda did rebound and was excellent in the postseason, including one start on three days' rest — the Yankees playoff odds will go from tiny to zero. They need their ace to bounce back in a big way against the lowly Blue Jays tonight.