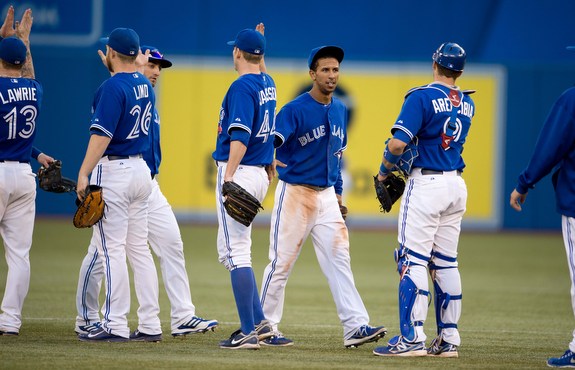 Once upon a time, it looked like this series would play a huge role in the AL East race. The Blue Jays were offseason darlings and the Yankees are pretty much always in contention, so back in Spring Training it seemed like a late-season series between the two clubs would have a huge impact on the division. Instead, Toronto sits in last place and New York has already been relegated to wildcard or bust.
What Have They Done Lately?
The Jays were off yesterday just like the Yankees. They lost two of three to the Orioles over the weekend and have lost five of their last six games overall. Toronto is 68-81 with a -47 run differential, both the fifth worst marks in the league. Their next loss officially eliminates them from postseason contention.
Offense
At 4.4 runs per game with a team 98 wRC+, the Blue Jays are almost an exactly league average offense. They are without RF Jose Bautista (133 wRC+), IF Maicer Izturis (63 wRC+), and LF Melky Cabrera (86 wRC+) though, all of whom are out for the season with injury. CF Colby Rasmus (126 wRC+) recently came off the DL but is being eased back into things.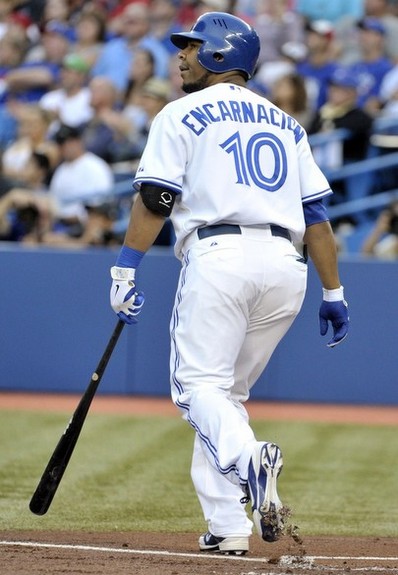 Manager John Gibbons has an elite power hitter in the middle of his lineup in 1B Edwin Encarnacion (144 wRC+). He still has more walks (82) and extra-base hits (66) than strikeouts (62). SS Jose Reyes (114 wRC+) is still as good as it gets in the leadoff spot and DH Adam Lind (127 wRC+) has had a strong bounceback year. 3B Brett Lawrie (95 wRC+) has been okay, as has UTIL Mark DeRosa (98 wRC+) in a reserve role. The lineup is pretty thinned out without Bautista and Rasmus.
C J.P. Arencibia (61 wRC+), OF Rajai Davis (84 wRC+), and IF Munenori Kawasaki (76 wRC+) are probably the only other guys on the roster everyone will recognize. OF Moises Sierra (152 wRC+ in very limited time) and 2B Ryan Goins (51 wRC+ in very limited time) both play regularly thanks to the injuries. CF Anthony Gose (76 wRC+ in limited time) and C Josh Thole (26 wRC+) are regulars on the bench while the crop of September call-ups include C Mike Nickeas and OF Kevin Pillar. Reyes and Encarnacion make this lineup dangerous by themselves, but the bottom of the order is really weak.
Starting Pitching Matchups
Tuesday: LHP Andy Pettitte vs. RHP R.A Dickey
Dickey, 38, has a 4.36 ERA (4.65 FIP) in 31 starts this season after taking home the NL Cy Young Award last summer. Can't imagine that's what the Blue Jays thought they were getting when they made the trade over the winter. Dickey's peripherals have declined across the board: 6.89 K/9 (18.1 K%), 2.98 BB/9 (7.8 BB%), 1.38 HR/9 (12.4% HR/FB), and 40.8% grounders. he uses just one mid-70s knuckleball these days, having apparently lost the second low-80s knuckler that made him so effective last year. A low-80s fastball is his get-me-over-pitch. Lefties (.341 wOBA) have hit him harder than righties (.308 wOBA). The Yankees have faced Dickey a few times this season and he's actually pitched quite well against them. He hasn't dominated, but he hasn't been a pushover either.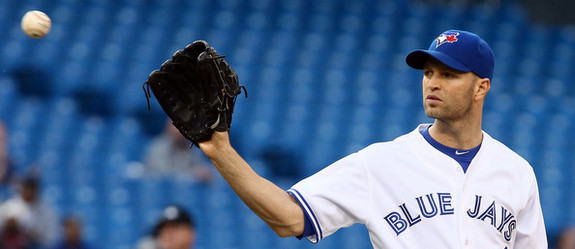 Wednesday: RHP Phil Hughes vs. LHP J.A. Happ
The 30-year-old Happ was carted off the field after taking a line drive to the side of the head and suffering a very small skull fracture (and knee strain) four months ago. He's made eight starts since returning from the DL and has pitched well in half of them, and overall he owns 5.15 ERA (4.14 FIP). The southpaw has missed enough bats (7.49 K/9 and 18.3 K%) and kept the ball in the park (0.98 HR/9 and 7.9% HR/FB), but his walk (4.66 BB/9 and 11.4 BB%) and ground ball (37.9%) rates are well-below-average. Happ is a five-pitch guy, sitting right around 90 mph with both his two and four-seamer. Both his slider and changeup come in in the low-80s, his curveball in the mid-70s. The Yankees have seen Happ three times this year and have hit him hard twice.
Thursday: RHP Hiroki Kuroda vs. RHP Todd Redmond
Redmond, 28, has a 4.10 ERA (4.19FIP) in eleven starts and three relief appearances this year as injuries have thinned out Toronto's rotation. His strikeout (9.33 K/9 and 24.8 K%) and walk (2.69 BB/9 and 7.1 BB%) rates are stellar while the homer (1.41 HR/9 and 11.8% HR/FB) and ground ball (31.0%) numbers are underwhelming. Redmond uses sinkers and four-seamers right around 90 mph to setup his bread-and-butter low-80s slider. He uses the slider almost three out of every ten pitches. Low-80s changeups and upper-70s curveballs are his rarely-used fourth and fifth offerings. Redmond held the Yankees to two runs in 5.2 innings late last month, the only time he's faced them.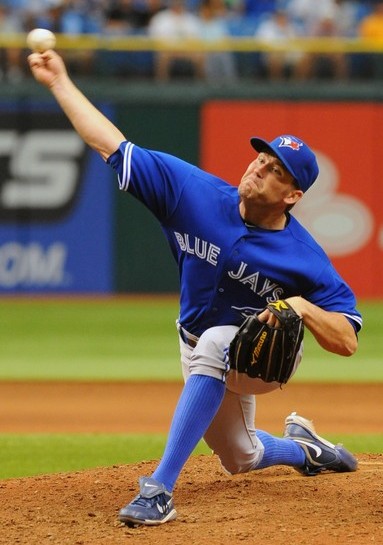 Bullpen Status
Like I said, the Blue Jays were off yesterday, so their bullpen is well-rested. Closer RHP Casey Janssen (2.96 FIP) is setup by RHP Steve Delabar (2.72 FIP), LHP Brett Cecil (2.88 FIP), RHP Sergio Santos (2.47 FIP in limited time), and LHP Darren Oliver (4.23 FIP). LHP Aaron Loup (3.28 FIP) and RHP Neil Wagner (4.21 FIP) handle the middle innings. The army of September call-ups includes RHP Kyle Drabek, RHP Jeremy Jeffress, RHP Chad Jenkins, RHP Dustin McGowan, LHP Luis Perez, and LHP Ricky Romero. Yes, that Ricky Romero.
The Yankees are in good bullpen shape and not just because of the off-day. The late-game trio of Mariano Rivera, David Robertson, and Shawn Kelley did not pitch at all this weekend and should be very well-rested. Boone Logan is still out with his elbow problem, however. Our Bullpen Workload page has the full recent reliever usage details. Check out Drunk Jays Fans and Tao of Stieb for the latest and greatest on the Blue Jays.