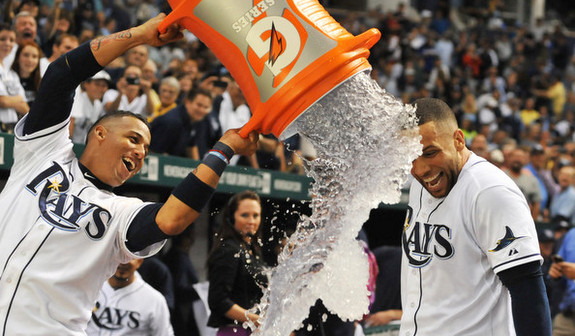 This had the potential to be a huge, season-defining series. Instead, the Yankees have lost six of their last nine games and are holding onto a microscopic chance — 0.3% according to Baseball Prospectus — of making the postseason. Their tragic number is three meaning they could be eliminated this series even if they sweep.
What Have They Done Lately?
The Rays just buried the Orioles by sweeping a four-game series in Tampa. That series included two walk-off wins, one of which came in the 18th inning. Tampa has won nine of their last 12 games and is 87-69 with a +42 run differential. They are two games up on a wildcard spot and five games up on New York.
Offense
At 4.3 runs per game with a team 108 wRC+, the Rays have their best offensive team in a few years now. The days of scratching across a few runs and relying on the pitching are over, for at least one year. OF Desmond Jennings (111 wRC+) is nursing a minor hamstring injury and may sit out a few games as a precaution. Other than that, Tampa's healthy.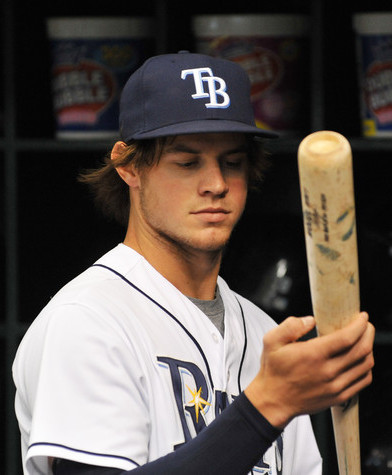 As usual, manager Joe Maddon's lineup revolves around 3B Evan Longoria (128 wRC+). 2B/OF Ben Zobrist (114 wRC+) always seems to punish the Yankees and OF Wil Myers (131 wRC+) has proven to be a tough out in his relatively young big league career. OF Matt Joyce (115 wRC+) and 1B James Loney (116 wRC+) have both been productive this year while 2B/OF Kelly Johnson (104 wRC+), OF David DeJesus (100 wRC+), DH Luke Scott (108 wRC+), and SS Yunel Escobar (101 wRC+) have been closer to average.
The Joses — Lobaton (109 wRC+) and Molina (76 wRC+) — split catching duties while OF Delmon Young (93 wRC+) and UTIL Sean Rodriguez (106 wRC+) will see time against lefties off the bench. OF Sam Fuld (52 wRC+) is more of a defensive replacement than anything. Maddon's bench also includes C Chris Gimenez, IF Tim Beckham, and OF Freddy Guzman thanks to September call-ups. Remember Guzman? He was on the Yankees playoff roster in 2009 as a pinch-running specialist. Only appeared in two games though, both in the ALCS against the Angels.
Starting Pitching Matchups
Tuesday: RHP Hiroki Kuroda vs. LHP Matt Moore
You'd never know it based on win-loss record and ERA, but the 24-year-old Moore has pitched almost exactly the same this year as he did during his rookie season last year. Here, look:
| | 2012 | 2013 |
| --- | --- | --- |
| W-L | 11-11 | 15-4 |
| ERA | 3.81 | 3.34 |
| FIP | 3.93 | 3.94 |
| Strikeout Rate | 8.88 K/9 (23.1 K%) | 8.68 K/9 (22.8 K%) |
| Walk Rate | 4.11 BB/9 (10.7 BB%) | 4.31 BB/9 (11.3 BB%) |
| Homer Rate | 0.91 HR/9 (8.6% HR/FB) | 0.90 HR/9 (8.8% HR/FB) |
| Ground Ball Rate | 37.4% | 39.1% |
The rate stats are essentially identical. Kinda neat. Also goes to show how much a 36-point drop in BABIP can help a pitcher's record and his ERA. Anyway, Moore has seen his fastball velocity drop off this year, but he still sits comfortably around 92-93 mph with his two and four-seamers. His low-80s slurve — it's more slider than curve at this point — and low-80s changeup are both legit put-away pitches. The Yankees have seen Moore a whole bunch of times since he broke into the league in late-2011, including four times this year. The good news is that each of those four starts has gotten progressively worse: one run in eight innings in April, one run in six innings in May, three runs in six innings in June, and five runs in five innings July. Would be cool if that trend continued.
Wednesday: TBA vs. LHP David Price
A triceps problem earlier this year really hampered the 28-year-old Price, but he's been excellent the last three months and has a 3.43 ERA (3.07 FIP) in 25 starts overall. Both his strikeout (7.33 K/9 and 20.4 K%) and ground ball (45.0%) rates have taken big step downs this year, but his walk rate is a career-low (1.37 BB/9 and 3.8 BB%) and his homer rate is in line with his career norms (0.79 HR/9 and 8.8% HR/FB). Price is still the same fastball-heavy guy he's always been, using mid-to-high-90s two and four-seamers as well as an upper-80s cutter approximately 70% of the time combined. He'll backdoor that cutter to righties for called strikes and there's nothing they can do about it. Unhittable pitch. A mid-80s changeup and upper-70s curveball round out his arsenal. The Yankees and Price have seen plenty of each other over the years, so there are no surprises.
The Yankees have yet to announce their rotation problems for the rest of the year in the wake of CC Sabathia's season-ending hamstring injury, hence the TBA.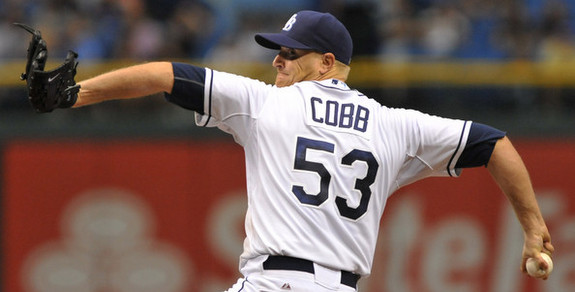 Thursday: RHP Ivan Nova vs. RHP Alex Cobb
Cobb, 25, is in the process of emerging as the next great homegrown Rays ace. He's got a 2.90 ERA (3.39 FIP) in 21 starts while missing a whole bunch of time after taking a line drive to the head. You probably remember that. Scary stuff. The combination of his strikeout (8.58 K/9 and 23.5 K%), walk (2.84 BB/9 and 7.8 BB%), and ground ball (56.0%) rates is elite, and he's pretty good at keeping the ball in the park too (0.86 HR/9 and 15.9% HR/FB). Cobb is a changeup master, using low-90s two and four-seamers to setup his fading mid-80s put-away pitch. He'll also throw an upper-70s curveball that can be absolutely filthy when it's on. That pitch has really helped him this summer. Cobb has faced the Yankees a few times since breaking into the league three years ago and he tends to pitch very well against them — they've scored four runs in 22.1 innings against him this season (1.61 ERA).
Bullpen Status
Maddon had to really work his sore relievers hard during the Orioles series, and not just because of the 18-inning game. Closer RHP Fernando Rodney (2.85 FIP) was off yesterday but pitched in three straight and four of five days before that, including two innings on Friday. Setup man RHP Joel Peralta (3.66 FIP) has pitched the last two days, three of the last four days, and four of the last six days. LHP Wesley Wright (4.05 FIP) and RHP Jamey Wright (2.99 FIP) have appeared in each of the last two days and three of the last four. Wright is just a lefty specialist though, so he only faced a batter or two each time out.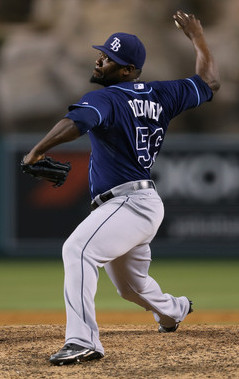 Setup LHP Alex Torres (2.40 FIP) and LHP Jake McGee (3.41 FIP) both had two straight days off before pitching yesterday. RHP Roberto Hernandez (4.59 FIP) has taken over as the long man while LHP Cesar Ramos (3.96 FIP) is more a multi-inning lefty than a specialist. Trade deadline pickup RHP Jesse Crain (1.52 FIP) was just activated off the DL yesterday — the trade was structured so that the more he pitched for Tampa, the better the player to be named later would be — and has yet to appear in a game for Tampa. LHP Jeff Beliveau, RHP Brandon Gomes, RHP Jose Lueke, and RHP Jake Odorizzi round out the expanded roster bullpen.
The Yankees were off yesterday and are in fine bullpen shape. They haven't used a single reliever other than David Robertson or Mariano Rivera since Thursday. Check out our Bullpen Workload page for the exact details. For the latest and greatest on the Rays, I recommend The Process Report and DRays Bay.