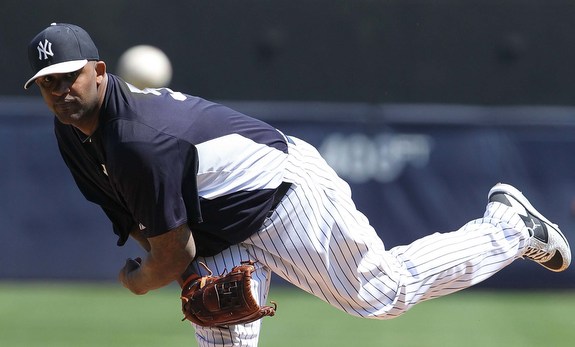 CC Sabathia suffered a Grade II strain of his left hamstring in his last start and is done for the season, the Yankees announced. The recovery time is eight weeks and he is expected to be ready for Spring Training. Brian Cashman confirmed to Dan Martin that Sabathia suffered the injury in the second inning of Friday's start against the Giants but "pitched through it."
Sabathia, 33, must have hid the injury if it happened in the second inning. I doubt Joe Girardi & Co. would keep sending him out there if they knew he was hurt. CC has been terrible overall this year, pitching to a 4.78 ERA (4.10 FIP) in 211 innings across 32 starts, his seventh straight season of 200+ innings. The Yankees didn't need to come up with some kind of injury excuse if they wanted to shut Sabathia down — even if they did, they wouldn't come up with something as severe as a Grade II hamstring strain — so this is legit. You know, for all you conspiracy theorists out there.
The Yankees had already rearranged their rotation for the upcoming Rays series and Sabathia was scheduled to start Wednesday night. That start figures to go to the Phil Hughes/David Huff tandem instead. The team does need to come up with a starter for Saturday's game now, so they could either split up the Hughes/Huff tandem or give the ball to someone like Brett Marshall or Adam Warren. I doubt David Phelps is an option at this point. He had not thrown more than two innings in a simulated game before being activated off the DL last week.
Because of expanded rosters, Sabathia will not technically be placed on the DL. Obviously a Grade II strain would be a DL-worthy injury had it come earlier in the season. Sabathia was on the DL twice last season (groin strain, elbow inflammation) and had offseason surgery both last year (bone spur in elbow) and the year before (meniscus tear in right knee). Outside of oblique strains in 2005 and 2006, he was almost perfectly healthy for the first ten years of his career. Sucks he's breaking down now.