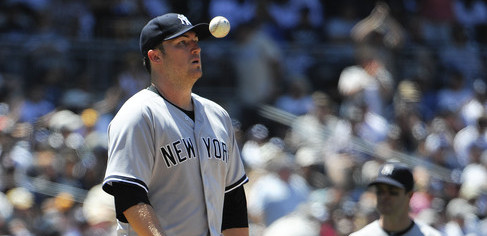 In all likelihood, Phil Hughes is about to begin his final month as a Yankee. It's been an up-and-down seven years to say the least, and 2013 has been the lowest of the non-injury lows. He comes into this start — which the Yankees pushed back so he could face the worst offensive team in the league — with a 4.91 ERA and 4.55 FIP in just 135.2 innings across 25 starts. Hughes has been awful and at this point there's little he can do to change that. What he can do, however, is close out his pinstriped career with a strong month of September that helps the team sneak into the postseason. That would be a great going away present.
Here's the lineup Joe Girardi is sending up there against left-hander and former Yankees farmhand Jose Quintana:
CF Brett Gardner
SS Derek Jeter
2B Robinson Cano
LF Alfonso Soriano
3B Alex Rodriguez
DH Vernon Wells
RF Curtis Granderson
1B Mark Reynolds
C Austin Romine
And on the mound is Hughes, who has failed to complete five full innings of work in four of his last six starts. With a full bullpen thanks to September call-ups, expect Girardi to have a very short leash.
The weather in New York is pretty ugly at the moment. It's supposed to start raining a little later this afternoon and continue raining right through tomorrow morning, so there might some problems getting this game in. We'll just have to wait and see. First pitch is scheduled for 1:05pm ET and can be seen on YES locally and MLB Network nationally. Enjoy.
Roster Update: As expected, right-hander Preston Claiborne has rejoined the team now that the High-A Tampa season over. Would have been nice to have him yesterday. The Yankees preferred bullpen quantity over quality, however.
Injury Update: David Phelps (forearm) has started playing catch. Joe Girardi confirmed the right-hander is not expected to return this season, however.
Weather Update (1:32pm): And we're in a rain delay after one inning and one out. The forecast is pretty ugly for the rest of the day, so it's unclear when or if they will resume playing. Thanks to September call-ups, losing the starting pitcher so early isn't the end of the world.
Weather Update (3:07pm): The game is tentatively scheduled to resume at 3:25pm. David Huff is warming up in the bullpen.