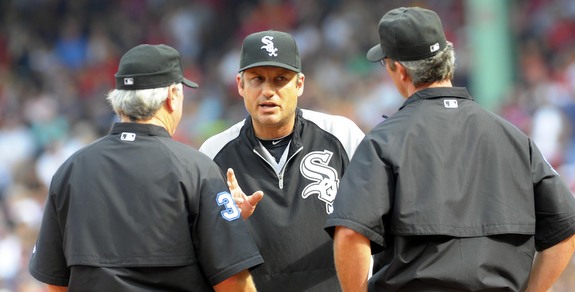 The White Sox are a big reason why the Yankees are four games back of the second wildcard spot in the loss column and not much closer to the race. They swept three games from New York in Chicago last month, including a gut-wrenching walk-off win in the finale after Robinson Cano gave the Bombers the lead in extra-innings. That can't happen again.
What Have They Done Lately?
The White Sox just got swept by the Red Sox in Boston, which is usually what happens when one of the worst teams in baseball goes on the road against the one of the best teams in baseball. Former Yankee player and current ChiSox manager Robin Ventura's team actually won ten of 12 games before going to Fenway Park. At 56-79 with a -71 run differential, they sit in last place in the AL Central and have the third worst record in the entire game.
Offense
The south-siders average just 3.8 runs per game with a team 84 wRC+, making them the worst offensive team in the AL and second worst in baseball overall. Only a Marlins (70 wRC+!) are worse. The White Sox do not have any position players on the DL at the moment, though they did trade away OF Alex Rios (98 wRC+) since the last time these two teams met.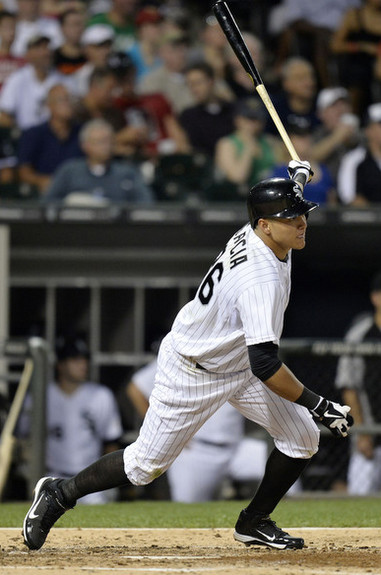 Ventura has just one legitimately above-average hitter on this roster: 1B/DH Adam Dunn (112 wRC+). The odds of him hitting a homer this series is like, infinity. OF Avisail Garcia (107 wRC+) has been very good since coming over at the trade deadline, but he's only had 87 plate appearances with the team. OF Alejandro De Aza (100 wRC+), 2B Gordon Beckham (94 wRC+), and OF Dayan Viciedo (92 wRC+) are useful while SS Alexei Ramirez (83 wRC+) and 1B Paul Konerko (80 wRC+) aren't. Konerko is pretty much done at age 37.
The rest of the regular lineup includes 3B Conor Gillaspie (81 wRC+) and C Josh Phegley (41 wRC+). IF Jeff Keppinger (52 wRC+) plays regularly because he signed a three-year contract this offseason. OF Jordan Danks (95 wRC+ in limited time), C Tyler Flowers (58 wRC+), IF Leury Garcia (23 wRC+ in very limited time), and C Brayan Anderson (has not played) round out the bench. The ChiSox are carrying 14 position players after rosters expanded yesterday.
Starting Pitching Matchups
Monday: RHP Phil Hughes vs. LHP Jose Quintana
Quintana, 24, is probably the best pitcher to come out of the Yankees farm system since Chien-Ming Wang. The southpaw has a 3.71 ERA (3.91 FIP) in 301 career innings and a 3.66 ERA (3.65 FIP) in 164.2 innings across 27 starts this season. His peripherals are solid across the board: 7.54 K/9 (20.0 K%), 2.60 BB/9 (7.0 BB%), 0.93 HR/9 (9.3% HR/FB), and 43.2% grounders. Quintana isn't a star but he's a rock solid mid-rotation arm already. Too bad he got away. A low-90s four-seamer is Quintana's primary fastball, but he will mix in the occasional low-90s two-seamer and upper-80s sinker. A handful each start. An upper-70s curveball and mid-80 changeup are his two offspeed pitches with the curve ahead of the change. Quintana actually has a reverse split this year — lefties have a .332 wOBA against him, righties .289. The Yankees have faced their former farmhand just two before, including last month, when he held them to one run in 6.2 innings.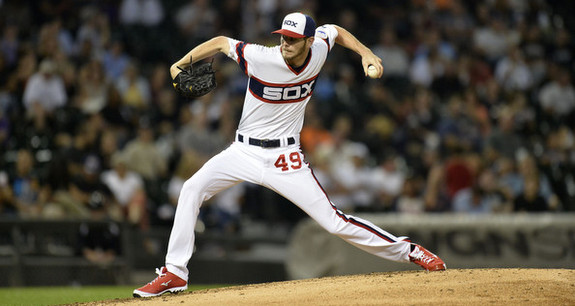 Tuesday: RHP Hiroki Kuroda vs. LHP Chris Sale
Outside of Clayton Kershaw, I don't think there's a better left-handed pitcher in baseball than the 24-year-old Sale. He comes into this start with a 2.99 ERA (3.11 FIP) and spectacular peripherals, including a 9.63 K/9 (26.5 K%) and 1.95 BB/9 (5.4 BB%). Sale also gets a nice amount of grounders (46.3%) and generally limits homers (0.95 HR/9 and 12.3% HR/FB) considering his home park yields a ton of dingers. His nasty three-pitch mix includes a mid-to-upper-90s two-seamer, a wipeout upper-70s slider, and a fading low-80s changeup. All three are viable weapons and not any kind show-me pitch. Sale annihilates lefty batters (.178 wOBA against) and is merely pretty good against righties (.304 wOBA). The Yankees have faced the southpaw just twice since he moved into the rotation last year and he dominated them both times — one run in 7.2 innings (with 13 strikeouts) last year, one run in 7.1 innings last month. He'd be in the Cy Young mix he the White Sox weren't terrible and his record was better than 10-12.
Wednesday: LHP CC Sabathia vs. LHP Hector Santiago
These are the same three pitchers in the exact same order the Yankees faced when they went to Chicago last month, so the Newark-raised Santiago gets the ball in the finale. The 25-year-old has been a true swingman for the ChiSox this year, pitching to a 3.43 ERA (4.33 FIP) in 133.2 innings across 20 starts and eleven relief appearances. He's got a good strikeout rate (8.69 K/9 and 22.1 K%) and an okay homer rate (1.01 HR/9 and 9.3% HR/9), but he walks too many (4.38 BB/9 and 11.2 BB%) and rarely gets ground balls (36.0%). Santiago will use seven different pitches, but his top three offerings are a low-to-mid-90s four-seamer, a low-90s sinker, and a low-80s changeup. He'll also thrown an upper-80s cutter, an upper-70s slider, a mid-70s curveball, and a mid-70s screwball on occasion. Here's a .GIF of the screwball. Santiago doesn't have a platoon split and he gave up four runs to the Yankees in 5.2 innings last month.
Update: The ChiSox just announced they have pushed Santiago back to Thursday, so he will not pitch against the Yankees. Wednesday's starter is currently listed as TBA.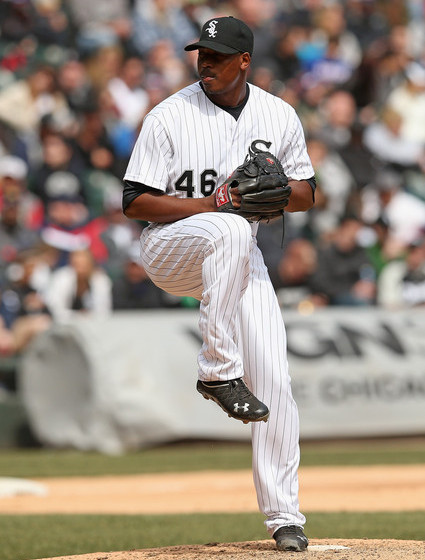 Bullpen Status
Now that rosters have expanded, pretty much every team has fresh arms in the bullpen. ChiSox closer RHP Addison Reed (2.87 FIP) hasn't pitched in about a week while setup man RHP Nate Jones (2.60 FIP) pitched yesterday just to get some work. RHP Matt Lindstrom (3.16 FIP) is fresh as well. Long man LHP Charlie Lessman (5.60 FIP in very limited time) soaked up 4.1 innings yesterday and won't be available for a few days. LHP David Purcey (5.24 FIP in limited time), LHP Donnie Veal (4.89 FIP in limited time), RHP Dylan Axelrod (5.54 FIP), and RHP Jake Petricka (3.68 FIP in very limited time) round out the rest of the Ventura's bullpen. They added just one extra arm yesterday, but I assume more are on the way.
The Yankees are in fine shape bullpen-wise, especially since David Robertson and Mariano Rivera have both pitched just once in the last seven days. Preston Claiborne will return today to add some more setup depth after Dellin Betances, Cesar Cabral, and Brett Marshall joined the team yesterday. Our Bullpen Workload page has all the recent reliever usage details and South Side Sox has everything you could possibly want to know about the White Sox.