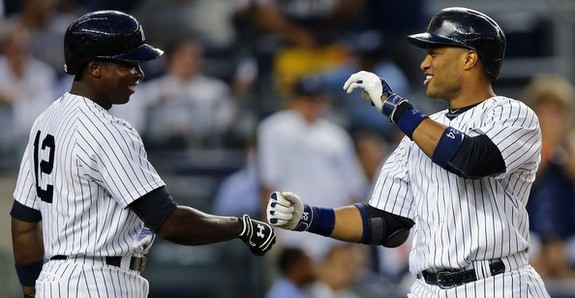 The Red Sox are entirely too comfortable in the new Yankee Stadium. They've won 21 of the last 35 games they've played in the Bronx, which is way too many. The Yankees need to stand their ground and defend their home park these next four games like their playoff life depend on it, and you know it? It does. New York is backed into a corner — seeing Game 140 in the headline really drives home how little time is left in the season, no? — and simply holding their own against the good teams isn't an option anymore. The Red Sox are a very good team, and for these next four days, the Yankees need to be better. Here's the lineup that will face right-hander Jake Peavy:
CF Brett Gardner
SS Derek Jeter
2B Robinson Cano
LF Alfonso Soriano
DH Curtis Granderson
3B Alex Rodriguez
1B Lyle Overbay
RF Ichiro Suzuki
C Chris Stewart
And on the mound is right-hander Ivan Nova, the self-proclaimed best pitcher in the world. He's been the team's best starter for about a month now that Hiroki Kuroda has hit a wall. Nova needs to set the tone for the series and shove it down Boston's throat tonight.
It is cloudy and cool in New York with no threat of rain. The baseball gods don't want anyone getting off easy, I see. First pitch is scheduled for 7:05pm ET and can be seen on YES locally and MLB Network nationally. Enjoy.