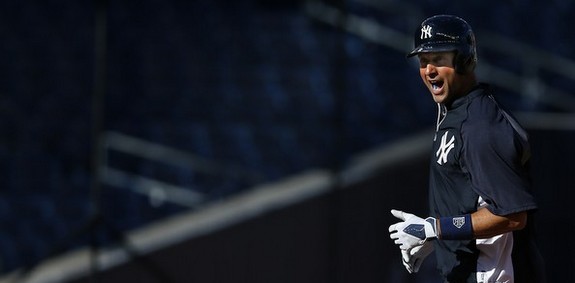 Last night's loss still stings. Fair or not, it will be considered the devastating blow if the Yankees fail to reach the postseason the same way Ryan Dempster's intentional plunking of Alex Rodriguez will be considered the turning point if the Yankees do make it to the playoffs. The narrative is strong with this one.
The best and worst thing about baseball is that they play everyday. The Yankees have a chance to put that loss behind them and move forward with a win tonight. They've rebounded after brutal losses plenty of times before — including earlier on this very homestand — and they'll have to do it again. If they sit around and sulk, they'll have no chance. I don't expect that to happen. This team has shown the ability to put things in the past and move forward. Here's the lineup that will face left-baller Felix Doubront:
CF Brett Gardner
DH Derek Jeter
LF Alfonso Soriano
2B Robinson Cano
3B Alex Rodriguez
RF Vernon Wells
SS Eduardo Nunez
1B Mark Reynolds
C Chris Stewart
And on the mound is left-hander Andy Pettitte, who needs to give the Yankees some serious length tonight. None of this five-and-fly business. The bullpen is short because of recent workloads and I have no desire to see Joba Chamberlain in a big spot again. It would be nice if the offense gave him some breathing room as well.
It's been another cool and cloudless day in New York. Very nice weather for baseball. First pitch is scheduled for 7:05pm ET and can be seen on YES locally and MLB Network nationally. Try to enjoy.