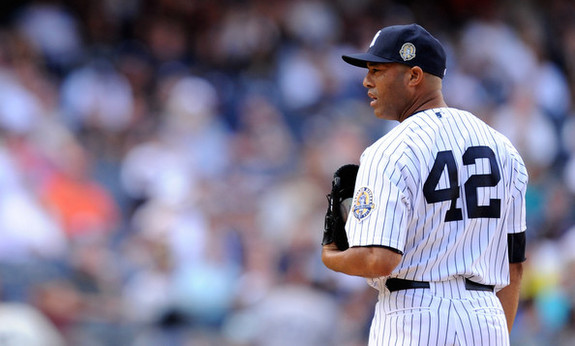 This is the final home game of Mariano Rivera's career. I can't believe it. I don't want to believe it. The Yankees have already been eliminated from the postseason and Rivera's farewell tour is pretty much the only reason worth tuning in. Joe Girardi has already confirmed Mariano will pitch tonight regardless of score, and you can be sure the ovation and "Mar-ee-a-no!" chants will be long and loud. It's going to be amazing. I can't want but I never want it to come. Here's the lineup that will face right-hander Alex Cobb:
RF Ichiro Suzuki
3B Eduardo Nunez
2B Robinson Cano
DH Alfonso Soriano
CF Curtis Granderson
1B Lyle Overbay
LF Zoilo Almonte
SS Brendan Ryan
C J.R. Murphy
And on the mound is righty Ivan Nova, making his final start of the season. He's been one of the few positives this year regardless of what happens tonight.
The weather is fine in New York, so they won't have any trouble getting the game in. First pitch is scheduled for 7:05pm ET and can be seen on YES. Enjoy.
Rotation Update: Andy Pettitte's last start has been pushed back a day, so he will start Saturday instead of Friday. The Yankees currently have both Friday's and Sunday's starters listed as TBA. Friday's start was supposed to go to the Phil Hughes/David Huff tandem before they had to spot for CC Sabathia and Sunday's start was supposed to go to Hiroki Kuroda. Guess they're shutting him down. Brett Marshall and Adam Warren are the obvious replacement options, though I suppose they could go with a bullpen game on Sunday. We'll see. Not exactly a big concern.