By TiqIQ
Over the last week, the average price for Mariano Rivera's final game has dropped on the secondary market from $238 on September 8th to $103 today.  It's one of the few games the Yankees have sold out this season. Despite that fact, the average price is now only 10% above the Yankee's regular season average.  That's quite a contrast from opening day, when the game had an average price of $371. In April, Yankees fans envisioned a strong finish after an injury-slowed first half, and Mariano on the mound saving a game to put them into the playoffs for one final magical Mo postseason.  Instead, it's been almost a week since he has pitched, and while a there have been a couple wins along the way, the last 10 days has been filled with a lot of lopsided losses.  Tonight, the Yankees will face Alex Cobb, whose 2.90 ERA is the best of any of the Rays starters this series.  Based on the first two games of the series, a save opportunity may be a long shot.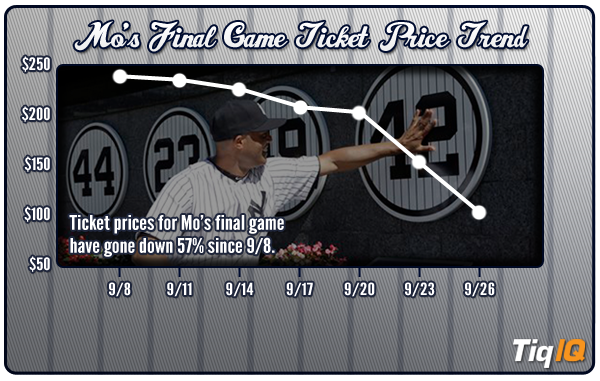 To the dismay of Yankees fans, Mo has not been trotting out for a ceremonially inning this series.  Not surprisingly, it's been business as usual for the Mo, and last night was no exception.  With two outs in the bottom of the 8th, the Yankees, down 7-3, loaded the bases. When Curtis Granderson came to plate, one swing could have tied the game. Many managers feel that a tied game in the 9th at home is the equivalent to a save situation. Preserving the tie gives the home team a chance to win the game in the bottom half of the 9th, so goes the logic.  With that possibility, Mariano quickly stood, loosened his arm with a few bent-over windmills and stepped up the bullpen rubber.  The crowd cheered in anticipation of a miracle, and Mo threw two quick pitches at about three-quarters speed before Granderson grounded sharply into a shifted 4-2 putout.  With the threat over, Rivera returned to his seat and eventually watched the Yankees go out 1-2-3 in the ninth.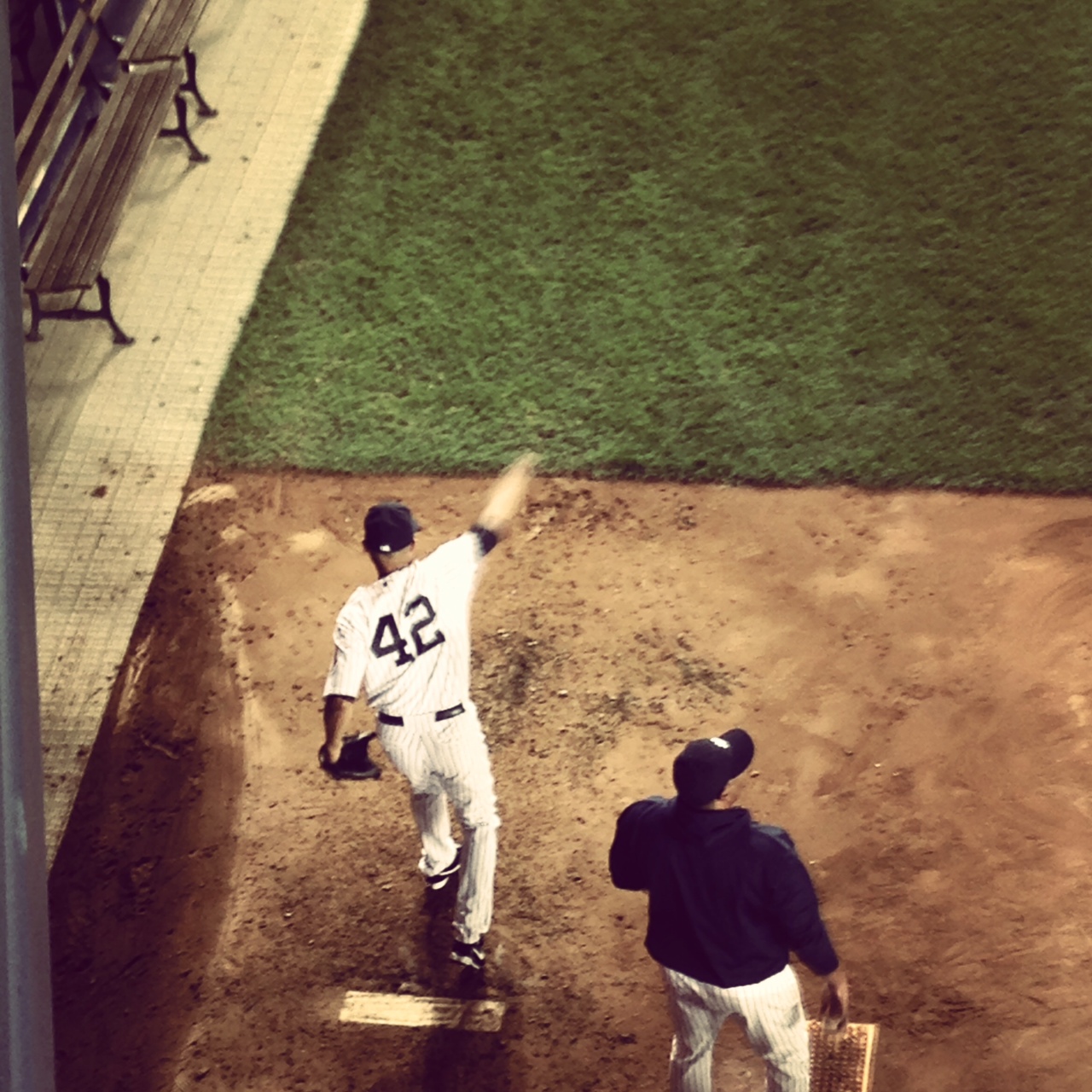 If the Yankees can't make it close tonight, those could have been Mariano's two last warmup pitches in Yankee Stadium.  Despite their elimination last night, and the final confirmation that there would be no world series tickets in the Bronx, the Yankees still have something to play for tonight: the chance to give their fans one last opportunity to see the great Mariano close a game.   It would be some version of a happy ending to a miserable and tortured season, and give Yankees fans a brief moment to reminiscence about the last 19 seasons before turning their attention to an uncertain future.