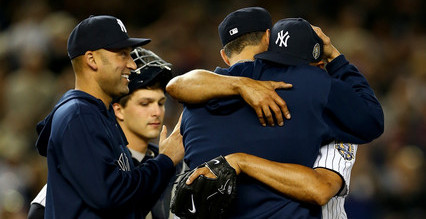 So here we are. The final series of the season. These games mean nothing to either team. The Astros are locked into the first overall pick (for the third straight year) and the Yankees are pretty much locked into their draft slot as well. It'll take a minor miracle (or sweeps by the Astros and Diamondbacks) to move up a spot. They're just … running out the clock, I guess. Getting these last three games out of the way before four and a half months of vacation. Here's the lineup that will face left-hander Brent Oberholtzer:
CF Curtis Granderson
3B Eduardo Nunez
DH Robinson Cano
LF Alfonso Soriano
1B Mark Reynolds
2B David Adams
RF Zoilo Almonte
SS Brendan Ryan
C J.R. Murphy
And on the mound is right-hander Adam Warren. He hasn't thrown more than 28 pitches in an outing in three weeks, so I can't imagine he'll be good for more than three innings tonight. Maybe four if they're lucky. That doesn't really matter though, the bullpen is full of September call-ups.
It's hot (as usual) in Houston and it's supposed to rain tonight, but Minute Maid Park has a roof and that won't be an issue. First pitch is scheduled for 8:10pm ET and can be seen on YES. Enjoy the game. There aren't that many left.
Mariano Rivera Update: Joe Girardi said Mariano Rivera is his own boss this weekend. If he wants to pitch, he'll pitch. If he wants to play the outfield, he'll play the outfield. It's all up to him.