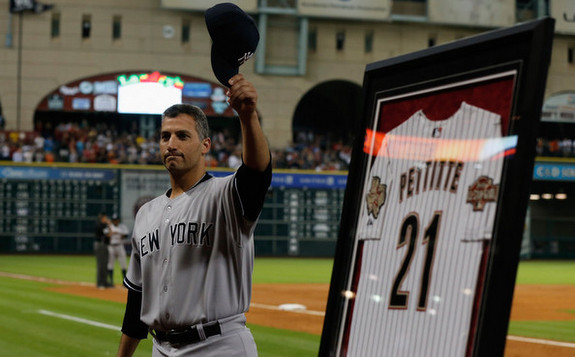 For the last time in his career, Andy Pettitte will start a Major League game tonight. He is retiring after the season and, after making his final Yankee Stadium start last weekend, will wrap-up his borderline Hall of Fame career at home in Houston. Pettitte lives in the area and spent three years pitching for the Astros, so things worked out pretty well for him. Coincidentally, he will also be making his 438th career start in pinstripes, tying Whitey Ford for the most in franchise history. Pretty neat. Here's the lineup that will face right-hander Paul "don't call be Rogers" Clemens:
CF Curtis Granderson
3B Eduardo Nunez
2B Robinson Cano
LF Alfonso Soriano
1B Lyle Overbay
RF Zoilo Almonte
DH Ichiro Suzuki
SS Brendan Ryan
C Chris Stewart
And on the mound for one last time is Andy Pettitte. Maybe it's just me, but this doesn't seem to have the same luster as it would have had he not retired once before. Still going to sad to see him go.
It is hot, humid, and raining in Houston. Luckily, Minute Maid Park has a roof. We'll have baseball tonight. First pitch is scheduled for 7:10pm ET and can be seen on YES. Enjoy the penultimate game of the season.
Mariano Rivera Update: Rivera said he was pitching with "tremendous soreness" in his forearm down the stretch. He won't pitch against this season and is unlikely to play center field as well.
Injury Update: Alex Rodriguez (hamstring, calf) is unlikely to play at all this weekend. With his appeal hearing set to start Monday and a lengthy suspension on the horizon, it's fair to think he may have already played the final game of his career.
Rotation Update: Girardi confirmed that Hiroki Kuroda has been shut down and will not pitch tomorrow even though he lines up for the game. David Huff is likely to get the ball, at least until the parade of September call-ups close out the season.