That was an unnecessarily stressful game. But, a win is a win is a win. The Yankees returned the favor and completed the sweep of the last place White Sox on Wednesday night, surviving a late-inning rally for the 6-5 victory.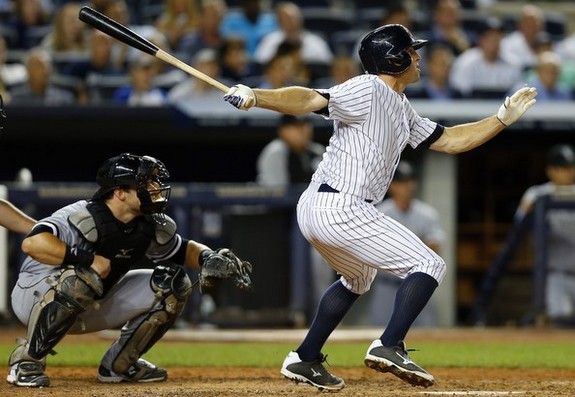 Four In The Fourth
To give you an idea of how out of it the ChiSox are, they had three players make their big league debuts in this game. One of the three was starting pitcher Erik Johnson, who coughed up a solo homer to Robinson Cano in the first before striking out Ichiro Suzuki to escape a bases loaded jam later in the inning. He settled down briefly before the Yankees took him out behind the woodshed in the fourth inning.
That inning started innocently enough, with an Alex Rodriguez ground ball single back up the middle. Ichiro grounded back to the pitcher, but Johnson floated the throw over to first and Jeff Keppinger wasn't able to scoop it out of the dirt. With runners on first and second with no outs, the Yankees turned Lyle Overbay loose in a 3-0 count and he came through with a run-scoring double. After Austin Romine grounded out, Brett Gardner sliced a two-run triple into the left-center field gap for two more runs and a 4-1 lead. I have no idea how that ball went for three bases, the White Sox outfielders looked like they were running in slow motion. Don't get he wrong, it was hit hard and sure extra-base hit, but it took them forever to retrieve the ball.
Cano brought in Gardner with an infield single later in the inning, capping off the four-run attack. Johnson threw a first pitch strike to just two of the first seven batters in the inning — Romine on the ground out and Cano's first-pitch single. Everyone else was ahead in the count 1-0 or better at one point. Tough to live life that way, but that is what rookie pitchers do. They struggle to throw strikes and get hurt. The Yankees capitalized on Johnson's throwing error and his general young pitcheritis.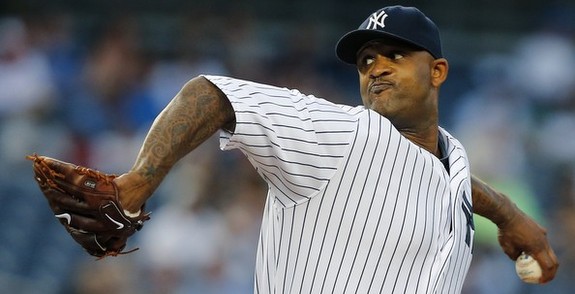 A Better Sabathia
Much like Hiroki Kuroda on Tuesday night, CC Sabathia probably would have gotten clobbered had he been facing a Major League caliber lineup on Wednesday. A pair of walks and a double gave the White Sox a first inning run, but Sabathia settled down and kept Chicago in check from the second through seventh innings. He did put a man on base in every inning but the seventh, however. To be fair, one base-runner came on an error and two others came with the bases empty and two outs. Not the end of the world, really.
The final line was three runs on five hits and four walks in 7.1 innings of work, with four strikeouts and eleven ground outs compared to six in the air. Sabathia wasn't on the mound when the second and third runs scored. He also completed a full seven innings of work for the first time in five five starts and just the second time in ten starts. Seven innings used to be the minimum for this guy. The White Sox are the worst lefty hitting team in baseball and they didn't exactly knock Sabathia around the park (lots of bloops, really), so maybe this is something he build off confidence-wise. He's still clearly not the guy we're used to seeing, but at this point CC just needs to give the team enough of a chance to win. Sabathia did that on Wednesday.
Almost Death By Bullpen
Despite the comfortable five-run lead, Girardi went to David Robertson to finish off the eighth because he needed some work. He had not pitched in four days and only pitched once in the last nine days. The rust showed, as Robertson allowed four of the five batters he faced to reach base. Three singles and one walk to the unwalkable (career 5.2% walk rate) Dayan Viciedo turned a five-run lead into a one-run lead in a real hurry. An easy win suddenly became a nail-biter.
With the tying run on second and the go-ahead run on first with two outs, Girardi didn't screw around. He brought in Mariano Rivera for his first four-out save since July 2011. Mo struck out Alejandro De Aza looking on seven pitches to end the eighth inning rally before retiring the side in order on eight pitches in the ninth. Nice and easy. It would have been nice to get Rivera a night off, especially since they led by five runs at one point, but every win is important and I'm glad he aggressively went to his two best relievers in big situations. Robertson just had an off night.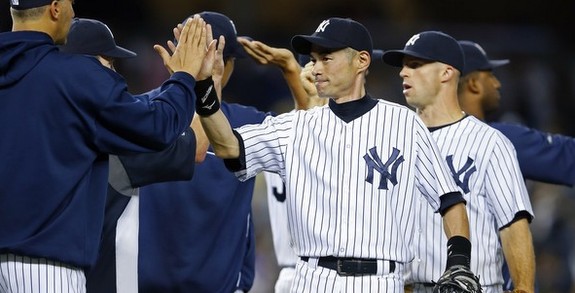 Leftovers
It was an afterthought at the time, but Alfonso Soriano plated Derek Jeter with a sacrifice fly in the seventh inning for what looked like a simple tack-on run. That eventually became the winning run given the ChiSox's eighth inning rally. Jeter walked and moved to third on Cano's single earlier in the inning. They had runners on the corners with one out and it could have been a huge inning, but Curtis Granderson lined a ball right at the first baseman for a double play. Sucks.
Once again, Cano led the offense with a homer and two singles while Gardner singled and tripled. Those two accounted for five of the team's eight hits while A-Rod, Overbay, and Granderson (double) had the others. Jeter, Soriano, A-Rod, and Overbay each drew a walk. Johnson struck out just one batter — Ichiro to end the first inning rally — and the Yankees struck out just three times as a team.
Former Yankee C.J. Nitkowski covered for Suzyn Waldman in the WCBS 880 booth while she was away for the Jewish holiday, and while I didn't hear any of the broadcast, he was supposedly excellent. Maybe he'll fill in again at some point.
Box Score, WPA Graph & Standings
See? The graph says the White Sox weren't all that all close to coming back and winning the game. You had nothing to worry about. Anyway, for the box score and video highlights, go to MLB.com. FanGraphs has some other stats and ESPN the updated standings. The Yankees have a one-game lead over both the Indians and Orioles in the loss column and, depending on the outcome of the late game, they'll either be three games (Rays win) or two games (Rays win) back of the second wildcard spot. Cool Standings has their playoff odds at 18.3% at the moment.

Source: FanGraphs
Up Next
The Red Sox are coming to town for an extended four-game weekend set. Needless to say, that will be an enormous series for the Yankees. Ivan Nova and Jake Peavy kick things off on Thursday night. Check out RAB Tickets if you want to catch the game live. Only ten more home games left in the regular season, you know.