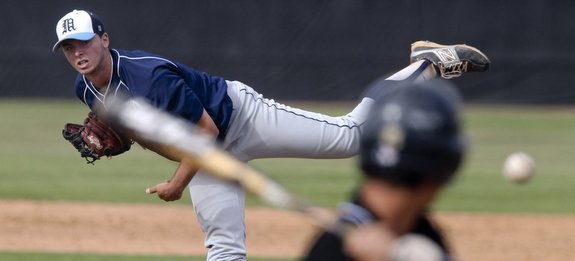 Ian Clarkin | LHP
Background
A Southern California kid from San Diego, Clarkin struck out 133 batters and posted a 0.95 ERA as a senior at James Madison High School this spring, which earned him a third consecutive All-California Interscholastic Federation Baseball Player of the Year selection. Clarkin led USA Baseball's 18-and-under team to the International Baseball Federation 18U World Championship in South Korea last year with six strong innings in the gold medal game. He committed to the University of San Diego.
Prior to the draft, Baseball America (no subs. req'd) ranked Clarkin as the fifth best draft prospect in California and the 17th best draft prospect overall. The Yankees selected him with the third of their three first round picks, the 33rd overall selection. That's the pick the team received as compensation for losing Rafael Soriano as a free agent. Clarkin infamously said he hated the Yankees in a pre-recorded video aired during the draft broadcast, but the team changed his mind with a $1,650,100 signing bonus. He took exactly slot money roughly two weeks after the draft.
Pro Debut
Clarkin headed to Tampa soon after signing, but his pro debut with the Rookie Gulf Coast League Yankees was delayed after he rolled an ankle during a workout. He didn't get into his first game until mid-August. Clarkin allowed six runs on five hits, four walks, and one hit batsman in five innings of work while striking out four. If you're curious, that works out to 10.80 ERA and 9.80 FIP in three appearances.
Scouting Report
Listed at 6-foot-2 and 186 lbs., Clarkin stood out from the high school pitching crop in the draft because he already has three pitches. His four-seam fastball sits in the 90-92 mph range right now and has touched 94 in the past. He's shown the ability to get some two-seam-ish movement on the pitch as well. A fading changeup has shown promise but is a clear third pitch right now.
Clarkin's break and butter is a power mid-70s curveball with hard break that is more 11-to-5 than 12-to-6. It's a true put-away pitch that, when he's on, he can throw for called strikes or bury in the dirt for swings and misses. Here's the obligatory GIF:
As you can see, Clarkin has a bit of an unconventional delivery with a long stride and a very high leg kick. That adds a ton of deception but hinders his command — he needs to develop more consistent mechanics to improve the effectiveness of all his pitches. He's an athletic kid and that should help him iron out the mechanics. Clarkin earns high marks for his competitiveness and willingness to pound the inside corner with fastballs despite less than stellar command.
Video
There are plenty more video at YouTube and even a few clips at MLB.com (mostly interviews).
2014 Outlook
Over the last few years, the Yankees have held their top high school pitching draftees back in Extended Spring Training for their first pro season before assigning them to either the Rookie GCL squad or Short Season Staten Island. I do think Clarkin might be the exception, however. New pitching coordinator Gil Patterson has a tendency to push young pitchers up the ladder aggressively, so an assignment to Low-A Charleston next year could be in the cards. It's not a guarantee, obviously, but I don't think it's completely off the table as it has been in recent years.
My Take
I'm a big high school pitcher guy, so I'm a Clarkin fan by default. I like that he already has a) good velocity from the left side, b) an out pitch breaking ball, and c) the makings of a good changeup. Usually you're lucky to get two of the three. The Yankees have not not have much success developing prospects lately, but Clarkin definitely has has plenty of raw material to build on going forward. They definitely got the draft pick right. Couldn't ask for a better prospect with the 33rd overall pick under the new restricted spending system.