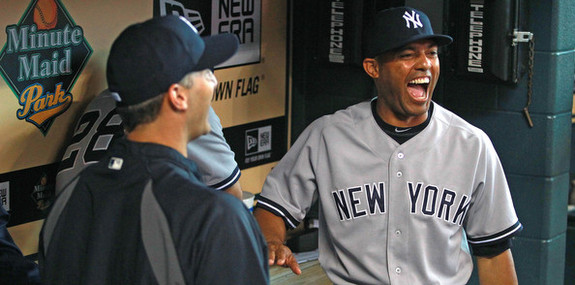 Later today, Brian Cashman will hold his annual end-of-season press conference, during which he'll probably reveal … not much in particular. These things never really bring major news, but you never know. Three years ago we found out pitching coach Dave Eiland was being let go, for example. Both Ken Rosenthal and Jon Heyman say the Yankees are "decompressing" at the moment and will take a few days before getting down to business, most notably hammering out a new contract with Joe Girardi. Until then, here are some random thoughts.
1. My gut feel is heads on the player development side are going to roll this winter. The Yankees replaced both Billy Connors and Nardi Contreras — two long-time player development linchpins — last offseason, the first sign the braintrust wasn't happy with the development staff. Yesterday we heard amateur scouting director Damon Oppenheimer and VP of Baseball Ops Mark Newman were most likely to get the axe, and it stands to reason director of player development Pat Roessler will be in that mix as well. The Yankees tend to promote from within and there's definitely something to be said for loyalty and continuity, but it's time for some new voices. If they make changes (they absolutely should at this point), they should bring in people from outside the organization. That's easier said than done obviously — "throw money at whoever runs the Rays/Cardinals farm system" is not a realistic solution because those guys have contracts that usually aren't broken for lateral moves — but what they've been doing isn't working. It's time for philosophical change, not rearranging the furniture.
2. Among players who are under contract/team control next season, how many would you say unquestionably belong on the Opening Day roster? Here's the contracts info from Cot's for reference. I count six: CC Sabathia, Ivan Nova, David Robertson, Brett Gardner, Alfonso Soriano, and Mark Teixeira. When Derek Jeter exercises his player option, it'll be seven. I'm assuming Alex Rodriguez gets suspended. A few other guys deserve long looks in Spring Training — David Phelps, Adam Warren, Austin Romine, Preston Claiborne, for example — but I'm not a big fan of handing young players who have been up-and-down (at best) jobs out of camp. Nova's the exception. That's just my preference, remember. Anyway, the point of this exercise was just to show just how many holes the Yankees have on their roster. Only seven guys who are slam dunks for the Opening Day roster? Yikes.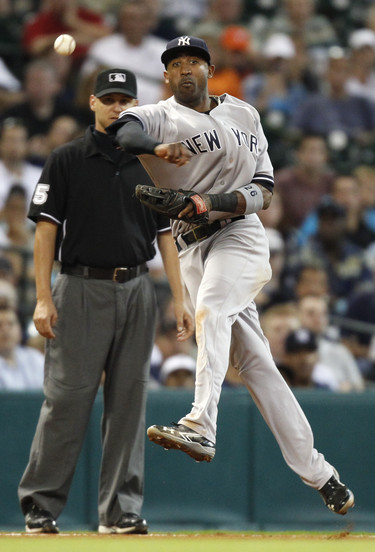 3. Eduardo Nunez played just well enough down the stretch to keep the Yankees from replacing him. That's not a good thing. He hit .260/.307/.372 (83 wRC+) in 336 plate appearances overall this season and .284/.321/.426 (101 wRC+) in 211 second half plate appearances. The Yankees obviously love Nunez and saw just enough late in the year to not move on this winter. He was well on his way to playing himself out of the team's plans with a rough first half, getting exposed by playing everyday as Jeter's replacement. Now he'll get another chance and be back next season. That would be fine if he wasn't a disaster on defense or if I had any confidence in him being even a league average hitter in the near future.
4. Given the current state of the organization, my biggest concern right now is re-signing Robinson Cano to massive contract and being unable to surround him with quality support players because payroll is coming down. They can't give Cano huge money and fill out the rest of the roster with washed up reclamation project types like Vernon Wells and Ichiro Suzuki. That's a recipe for mediocrity and will waste however many elite seasons Robbie has left. This is where the unproductive farm system and having … well … washed up reclamation project types like Wells and Ichiro under contract next season really hurts. The Yankees are stuck relying on free agency which is a) not cheap, and b) completely inefficient. Getting bang for the buck is a thing now, the team has to consider that as long as they try to get under the $189M luxury tax threshold.