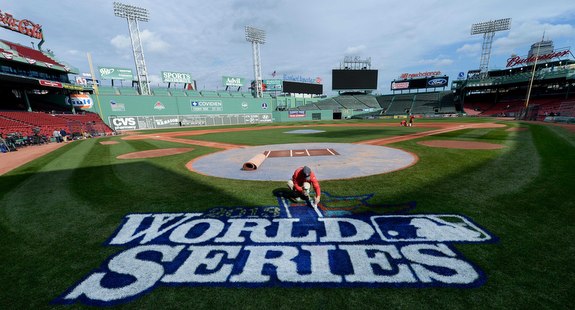 The 109th edition of the World Series opens tonight with perhaps the most insufferable matchup imaginable: the Red Sox and Cardinals. It's not so much the teams themselves — though let's face it, no one likes the Red Sox around here — but it's the way they're covered. Hopefully these next few days are so super-exciting it will overshadow the general awfulness that will come from a Red Sox-Cardinals series. Anyway, I have thoughts:
1. Regardless of whether they win the World Series, I expect more than a few teams to copy the Red Sox model of targeting mid-range free agents and ignoring the top of market. It's a great strategy in theory but is very hard to actually pull off. Boston did get at least somewhat lucky that every non-Ryan Dempster signing worked out almost perfectly this season. The years Shane Victorino and Koji Uehara had are like, 90th-percentile stuff. The Yankees are going to wind up re-signing Robinson Cano to a huge contract, which pretty much precludes them for the whole "spread the money around" idea. I have no reason to think they won't remain a top of the market club, $189M payroll plan or not.
2. The Dodgers fired bench coach Trey Hillman yesterday and I would not be surprised if he wound up with the Yankees in some capacity. Maybe on the coaching staff, maybe as a minor league instructor, maybe as a scout or in the front office. I don't really know. Hillman coached in the Yankees' farm system for more than a decade (1990-2001) before leaving because he was passed over several times for big league coaching positions. He spent a year in the Rangers' front office before heading over to manage in Japan. Brian Cashman and Hillman are reportedly close friends, so much so that he was considered an outside the box managerial candidate following the 2007 season. Hillman was named manager of the Royals before Joe Torre officially left and the Yankees had a chance to interview him. I don't know what he would do or how qualified he is to do it, but I would not be surprised if Hillman returned to the organization at all.
3. This is probably worth its own post at some point, but I think former Rangers outfielder David Murphy has a chance to be a real free agent bargain this winter. The 32-year-old was awful this year (73 wRC+) but awesome last year (129 wRC+), and I suspect his true talent is somewhere in the middle (career 103 wRC+). Murphy is strictly a left-handed platoon bat (career 71 wRC+ against southpaws) and his performance against right-handers in recent years is rather interesting. Here is a table of information:
| Year | PA | wRC+ | K% | BB% | BABIP | GB% | FB% | LD% |
| --- | --- | --- | --- | --- | --- | --- | --- | --- |
| 2013 | 365 | 81 | 12.6% | 8.2% | 0.222 | 44.3% | 36.2% | 19.5% |
| 2012 | 437 | 128 | 13.3% | 11.2% | 0.314 | 42.8% | 36.1% | 21.1% |
| 2011 | 322 | 115 | 13.4% | 7.5% | 0.316 | 49.8% | 32.5% | 17.6% |
| 2010 | 346 | 124 | 14.2% | 10.1% | 0.324 | 43.0% | 37.6% | 19.4% |
That is Murphy's performance against right-handers only. I repeat: right-handers only. The strikeout and walk rates are very good, and outside of the normal year-to-year fluctuation, his batting ball profile is unchanged. It's not like he suddenly forgot how to hit the ball in the air or something. It would be a big red flag if he did.
Despite that, Murphy's average on balls in play fell off a cliff last season, nearly a hundred points from his established level the three years before that. There might be a tangible reason for this — maybe he changed his approach in an attempt to have a huge contract year, maybe he was hiding an injury, maybe he was a mechanic mess, or maybe he simply had an unlucky season. It happens. If the Yankees don't bring Curtis Granderson back and can't reel in Carlos Beltran, Murphy would make a ton of sense if they can sell him on the idea of using the short porch to re-establish his value on a one-year, prove yourself before hitting the market again next winter.
4. Tim Lincecum's new contract (two years, $35M) is on the high-end but not way out of line with what I expected him to get. It shows two things: One, free agent prices continue to go up as the Yankees' payroll comes down. That's bad. Two, it shows the value of getting above-average pitching at an affordable rate, say $10-12M per year. Having Yu Darvish at that price sure would have been nice, but maybe Masahiro Tanaka can be that guy. Whoever acquires him will end up spending north of $100M, but half of that will be the posting fee, which doesn't count against the luxury tax. Obviously the Yankees would benefit from that. My guess is the team that lands Tanaka ends up with a lesser pitcher than Darvish at a higher salary. Either way, Lincecum's contract shows what happens when teams have a ton of money to spend — remember, every club will get an extra $25M starting next year thanks to the new national television contracts — and not many places to spend it. The few free agents who are good and/or have a track record are going to get paid in a big way.