We got a frickin' ton of mailbag questions this week, probably the most ever. It didn't help that I skipped last week's mailbag because of Thanksgiving either. So, to make up for it, here's a massive 17-question rapid fire mailbag. The Submit A Tip box in the sidebar to the best way to send us anything, but based on this week, you knew that already.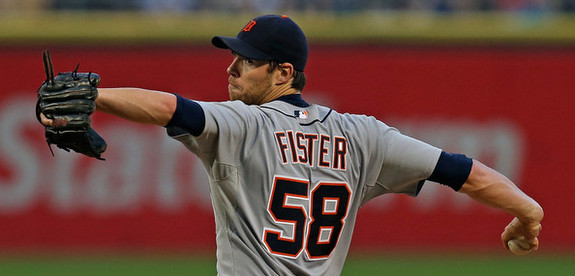 Many asked: Why didn't the Yankees get in on Doug Fister? What would have been a comparable package?
Here is a quote from Blue Jays GM Alex Anthopoulos, courtesy of Andrew Stoeten: "[Tigers GM Dave Dombrowsiki] was looking for very specific things. He said, look, for a deal like this, and what he was going to look to do, we didn't necessarily have the right fit."
The Tigers took what they took for Fister because that's what they wanted, not because it was the best value. They're obviously very high on Ian Krol and Robbie Ray. Eduardo Nunez is basically Steve Lombardozzi, but the Yankees don't really have a Krol (big league ready shutdown lefty reliever) or a Ray (high-end lefty starting pitcher prospect at Double-A). Cesar Cabral and Nik Turley are several notches below Krol and Ray. Fister is awesome; if Brian Cashman could have gotten him for a comparable package — pretty much everyone agrees it was a very light return — I'm sure he would have pulled the trigger.
Biggie asks: With the Cubs still a few years away from contending could the Yanks try to pry Mike Olt loose from them to man third? The Yankee prospects of value seem like they might fit the Cubs timetable to contend better than other teams. If so, what package gets that done?
Olt, 25, hit a weak .197/.302/.368 in 104 Triple-A games this season while battling vision problems. He got pretty overrated last winter but is a quality prospect, with big right-handed power and plenty good enough defense to remain at third. I don't love him as a long-term solution at the hot corner but I think he'd be a great piece to have during his pre-arbitration years. The Cubs reportedly seek pitching and prospect-for-prospect trades rarely happen. Would David Phelps be enough? Does that make sense for the Yankees, who also need young pitching in the worst way?
Dustin asks: Doesn't Corey Hart make more sense for the Yankees than Carlos Beltran? Yeah he is coming off of a serious injury, but he is younger, costs less, and can be just as productive. His defense stinks, but Beltran isn't much better in 2014.
Hart makes sense but I don't think he necessarily makes more sense than Beltran. He was very productive in 2012 (30 HR and 124 wRC+) but missed all of this past season after having microfracture surgery on his right knee. Beltran had knee problems too, but they were several years ago. He's been healthy for three seasons now. Hart, 31, is also a full-time first baseman — it is his natural position, the Brewers stuck him in right field once upon a time because of Prince Fielder — not an outfielder anymore. He's Ibanezian in the outfield. The Yankees could use a righty bat like Hart's, but they don't really have anywhere to put him besides DH. I'm not a fan of giving big money — Hart seems likely to get $10M or so in 2014 on a pillow contract — to guys coming off a lost year.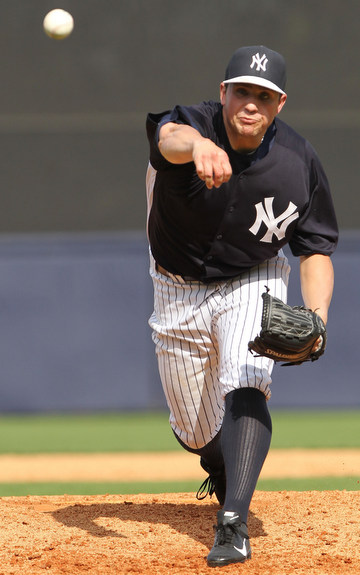 Andrew asks: Everyone's been really down on Mark Montgomery lately. Sure he dealt with bouts of injury/ineffectiveness last year but the kid is still electric, and that just doesn't fade away with one sub-par (not even bad) season. My bet's on him lighting up AAA for a second half callup in 2014.
Not really a question, but let's roll with it. Montgomery, 23, had a 5.63 BB/9 (14.3 BB%) with Triple-A Scranton around the shoulder and back problems last year, though obviously the control issues could be tied to the injuries. His stock is down because he was hurt but by no means is he done as a prospect. Montgomery still has the out pitch slider and that's really all you need as a reliever. It wouldn't surprise me at all if he tore up Triple-A this year and wound up in the show at some point.
Jimmy asks: Would cumulative WAR be an effective measure of a team's draft success/failure? Is there a more effective method?
Yes and no. The point of the draft is to add Major League talent, so total WAR makes some sense. I think a more effective method would be looking at WAR relative to draft position — getting a 2.5 WAR player in the first round isn't as impressive as getting a 2.0 WAR player in the 32nd round, for example. There's also the trade value component to consider. Chase Weems has never made it out of Single-A but the Yankees turned him into a few months of Jerry Hairston Jr. and I think they should get credit for that somehow. Total WAR is a quick and dirty method but I think we can do better. (That applies to all baseball analysis, really. Not just the draft.)
Kevin G.: How much would Alex Rodriguez get if he were a free agent right now and where does he go? Let's assume it was announced awhile ago that he would not be suspended.
Would anyone bid on him given all the baggage? A-Rod is still reasonably productive but I think the bad outweighs the good right now, even without a suspension. Maybe his hometown Marlins, who need a third baseman, would give him one year at $5-6M, but I'm not sure a big market team or a contender would take the plunge. This might be a Barry Bonds situation where there's just no interest despite some obvious fits.
Vinny asks: When a player waives his no-trade clause to go to another team, is the clause still in effect on the new team? Real question is, can the Yankees trade Alfonso Soriano if they wanted to?
The no-trade clause definitely carries over to his new team. Everything in the contract — incentives, bonuses, options, etc. — carries over, you get the whole damn thing. The Yankees can trade Soriano as long as he gives the okay, but I don't think he would and I don't think they'd want to move him anyway. They need the righty bat.
Kevin asks: Say the Yankees have an outfield of Brett Gardner, Jacoby Ellsbury and Soriano; would it possibly make sense to stick Soriano in center and let Gardner and Ellsbury cover for him on each side? Or would it be a complete disaster?
I like the idea! Gardner and Ellsbury could shade towards center to help Soriano since they still have the speed to cover the lines. It's an interesting thought but it really depends on how comfortable each player is their positions. Ellsbury might not comfortable in right and that could impact his defense, for example. Needless to say, I don't think the Yankees would do go for this kind of alignment. Like the creativity though.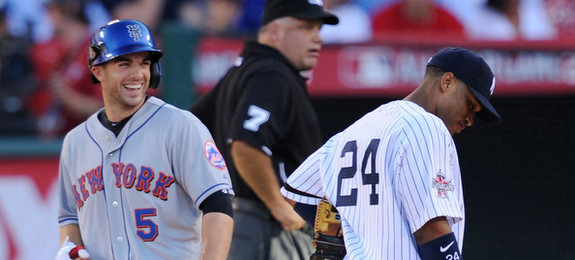 Jason asks: Don't know if you saw the comparison MLB Network's Hot Stove did for the careers of Cano and David Wright (signed 8-year, $138 million in 2012). Do you think its a fair comparison for the Yanks to go by that for their contract offer to Cano? Do you think this helps their case for the max $175 million bid?
I think the Wright contract is a nice reference point since he's a homegrown New York superstar. Cano is a flat out better player than Wright though, a better player who is far more durable while playing a more difficult position. That $138M guaranteed should be scaled upward for Robbie and it has based on the seven-year, $165M-ish offer. I do think Wright's deal as well as Dustin Pedroia's deal helps the Yankees somewhat during their talks with Cano, but all bets are off when a player hits the open market.
Jag asks: What do you think about a minor league contract with an invite to spring training for some pitchers like Roy Halladay or Johan Santana?
I'd give a minor league deal to almost anyone, including two former Cy Young winners. I do think Halladay will wind up with a guaranteed contract somewhere, probably back with the Phillies, but I wouldn't go that far. He looked awful following the shoulder surgery late in the season. Minor league contract? No doubt I'd do it. Johan … eh. A torn shoulder capsule is usually the kiss of death and he's coming back from his second one now. I'd give him a minor league deal but I wouldn't expect anything.
Craig asks: With the A's signing Scott Kazmir, they will reportedly not pursue Bartolo Colon. What do you think about a return to the Bronx for Bartolo?
Colon is not my first (Masahiro Tanaka) or second (Hiroki Kuroda) pitching target, but he might be number three or four. I don't love Matt Garza, Ubaldo Jimenez, or Ervin Santana long-term and would prefer the stopgap. Bart definitely has red flags — his age, dropping strikeout rate (5.53 K/9 and 15.2 K% in 2013), just okay ground ball rate (41.5%), and inconsistent velocity, primarily — but he's shown these last two years that his resurgence in 2011 was not a fluke. The price has to be right (one year and $10M?) but I do like the idea.
Joey asks: Who would you rather have at 3B, Michael Young, Mark Reynolds or Eric Chavez? Does your answer stay the same if A-Rod is or isn't suspended?
Reynolds and yes, the answer is the same regardless of what happens with A-Rod. After adding Brian McCann and Ellsbury, there is an obvious need to add some right-handed thump to pair with Soriano. Reynolds isn't good on defensively but neither is Young, and his power righty bat is a better fit for the roster than the lefty Chavez. I'd rank them Reynolds (small gap) Chavez (big gap) Young.
Albert asks: You can't vote for both – who would get you HOF vote: Mike Mussina or Andy Pettitte?
Moose, rather easily. I think Pettitte is a borderline Hall of Famer but wasn't quite good enough to get in. Moose is also on the bubble but I do think he was good enough for Cooperstown. Both guys have the longevity and the gaudy career win-loss record — they both did it in the AL East during the same period of time, so they're easy to compare — but Mussina's peak (1991-2001) was much better. He was legitimately one of the five best pitchers in the game at one point. Pettitte was awesome but I Moose gets my vote if I can only have one.
Dustin asks: I think the Yankees should go after Jose Mijares. Is he worth a Major League contract, or just a minor league one?
Mijares, 29, is a true lefty specialist who held lefties to a .273/.343/.367 (.319 wOBA) with a 32.1% strikeout rate this past season, so he wasn't great. His career numbers against same-side hitters — .221/.288/.335 (.278 wOBA) with a 25.3% strikeout rate — are much better. Minor league deal? Sure, bring him to camp and let him compete for a bullpen. I don't think I'd guarantee him anything, though I do love fat relievers.
Patrick asks: Where do the Yankees pick in the Rule 5 Draft and is there any chance they could grab Brian Moran?
They tentatively have the 17th overall pick but will move up a few spots because not every team will have an open 40-man spot(s). Teams with a full 40-man can not make a pick. The deadline to free up a spot is Monday. Moran, a 25-year-old lefty who had a 3.45 ERA (2.42 FIP) with a 12.21 K/9 (31.0 K%) in 62.2 Triple-A innings with the Mariners in 2013, is a lock to get selected and probably won't be around when the Yankees pick. I supposed they could work out a trade to move up — they did this with Cabral, sending $100k to the Royals for the fourth pick in the 2011 Rule 5 Draft (technically, the Royals selected Cabral and traded him to the Yankees as a player to be named later) — but that's pretty much the only way they'll get him. The Yankees will have an open 40-man spot even after the Ellsbury and Kelly Johnson deals are official and I definitely think they're going to grab a reliever given the state of the bullpen. No reason not to.
Paul asks: Is there any way to see a trending of any kind of your Monday fan confidence polls? How much of a bump did McCann give?
The Fan Confidence Graph is available at all times in the nav bar, under the banner at the top of the site. We've got almost five full years worth of data there and you can see the gradual trend downward starting with the 2009 World Series and continuing through to present day.
Jeb asks: All else equal, do you think that low budget teams have an advantage signing reclamation projects? The idea would be that these teams would have a harder time offering a qualifying offer in the event that the player actually bounced back.
That might be a factor, but I think reclamation project players (the guys coming back from injury or down years, with something to prove) tend to pick the best opportunity for playing time. Pitchers tend to prefer bigger ballparks while hitters prefer smaller ballparks, but for the most part, it's all about playing time. You can prove you're effective if you're buried as the last guy in the bullpen or as a bench player. These guys go for the best opportunity to showcase themselves for future employers.