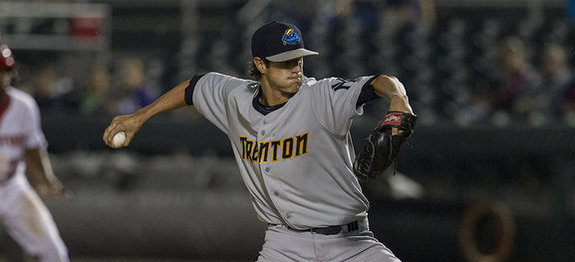 Shane Greene | RHP
Background
Greene is from the Orlando suburb of Clermont. He played both baseball and basketball at East Ridge High School but wasn't much of a pro prospect, so he went undrafted in 2007 and followed through on his commitment to the University of West Florida. Greene was a mop-up as a freshman, pitching to a 7.71 ERA with 30 strikeouts and 17 walks in 28 innings spread across four spot starts and eight relief appearances. He blew out his elbow late in the season and had Tommy John surgery in May 2008.
The Argos took his scholarship away following the injury, so Greene transferred to Daytona Beach Community College. He didn't pitch as a sophomore and wasn't on the draft radar at all. Greene was throwing a bullpen session at his high school when he asked a Yankees scout (who was there to see someone else) to watch him throw and put in a good word with the University of Central Florida. The team ended up bringing him to Tampa for a workout three weeks before the draft.
Baseball America (subs. req'd) did not rank Greene as one of the 80 best prospects in Florida prior to the 2009 draft following his lost year. The Yankees liked what they saw during the workout enough to select him in the 15th round (465th overall) even though he had not pitched in an actual game in over a year. He signed relatively quickly for $100k, below the maximum $150k slot recommendation for picks after the fifth round under the old system.
Pro Career
The Yankees sent Greene to the Rookie Gulf Coast League after signing and he was terrible, posting a 5.87 ERA (4.03 FIP) in 23 innings as he shook off the rust following surgery. He did strikeout 20 and walk only six.
Greene split the 2010 season between Short Season Staten Island and Low-A Charleston, throwing 68.2 innings across 14 starts. He managed a 4.59 ERA (~3.55 FIP) with a very good strikeout rate (8.7 K/9 and 21.3 K%) but a few too many walks (3.8 BB/9 and 9.4 BB%) and hit batsmen (12).
Sent back to Charleston the next year, Greene put up a 4.37 ERA (3.89 FIP) in 138 innings and 27 starts. The strikeout rate (8.3 K/9 and 20.8 K%) was still good but the walks (4.4 BB/9 and 11.1 BB%) and other stuff (ten hit batters and 14 wild pitches) were not.
The Yankees bumped Greene up to High-A Tampa for the 2012 season. He had a 5.22 ERA (3.93 FIP) in 112 innings across 23 starts and one relief appearance, again racking up strikeouts (8.12 K/9 and 20.0 K%) but not throwing enough strikes (5.06 BB/9 and 12.5 BB%, ten hit batters and nine wild pitches).
Greene was invited to big league Spring Training to kick off the 2013 campaign. He got rocked in two Grapefruit League outings (four runs in 1.1 innings) and returned to Tampa when the season opened. Greene earned a midseason promotion to Double-A Trenton and had a the best year of his career, pitching to a 3.38 ERA (~3.05 FIP) with 8.0 K/9 (20.7%) and 1.7 BB/9 (4.5 BB%) in a career-high 154.1 innings. Following his breakout season, the Yankees added him to the 40-man roster to protect him from the Rule 5 Draft.
Scouting Report
Greene always had the size (listed at 6-foot-3 and 200 lbs.) but it took a while for his stuff to catch up. He sat around 88-89 mph in high school and college but now works in the 92-94 mph range as a starter with his two-seam fastball. Greene's best secondary pitch is a hard low-to-mid-80s slider, plus he also throws a changeup. The latter is a clear third offering.
Thanks to some work with pitching coordinator Gil Patterson and others, Greene was able to tighten up his mechanics and do a better job of staying in line with the plate this summer. That, as well as an increased emphasis on attacking the zone rather than nibbling, led to the improved strike-throwing ability. Greene has been durable since having his elbow rebuilt, throwing at least 110 innings in each of the last three seasons and at least 135 innings in two of the last three seasons.
Video
That clip is from 2011 because there simply isn't much video of Greene out there. He appears a few times in this highlight reel from August (he's number 27), if you're interested.
2014 Outlook
Now that he's on the 40-man roster, Greene will return to big league camp next spring even though he doesn't have much of a chance of making the team. Instead, he'll return to Trenton for a few weeks and likely get bumped up to Triple-A Scranton at midseason. If all goes well, there's a pretty good chance Greene will make his MLB debut at some point in 2014, at the very least as an extra arm when rosters expand in September.
My Take
If you've read RAB long enough, particularly the kinda sorta weekly chats, then you know I've been touting Greene as a sleeper for a few years now. The stuff was always interesting and I figured if the control ever came around, he could blossom into something useful. I think Greene, who turned 25 last month and is older than the typical prospect, will ultimately settle in as a fastball-slider reliever, but there's no reason to take him out of the rotation just yet. The Yankees found a potentially useful arm in the 15th round after a bullpen session and a workout, which is kinda cool. It would be some kind of scouting/player development success if Greene winds up contributing at the big league level at some point in the near future.