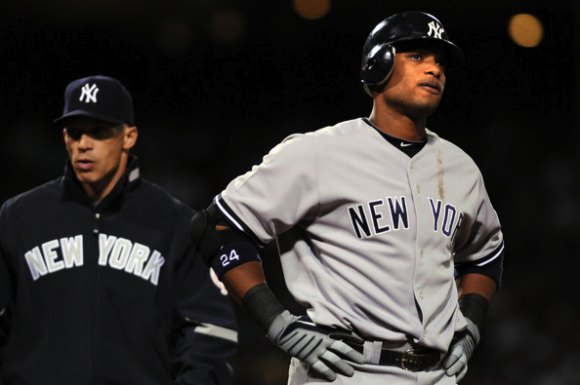 Just a few weeks ago, friend of RAB Jack Moore wrote an article at The Score about the potentially boring hot stove, not only this season, but for future seasons. His overall point remains strong:
The shift to buying out multiple free agent years in long-term extensions for young stars has led to fewer and fewer young stars hitting the free agent market in their 20s. The advent of the second wild card has led more and more teams to believe they can contend, leading to fewer fire sales.
Thankfully, the hot stove has remained interesting, at least this off-season, thanks to teams acting early and aggressively. Moore might be correct in the long run; he'll certainly be right come mid-December, when all those free agents are off the board and teams are pretty set. But for the last few weeks we've seen a peak of hot stove activity, and nearly every moment has been enjoyable — which seems a good transition into the first short.
Cano didn't like Girardi?
The Yankees are clearly sold on Joe Girardi at the helm. They've now twice extended his contract after hiring him in 2008, the latest a four-year deal that could bring Girardi's tenure to a decade. It makes sense, then, that the Yankees wouldn't aggressively approach a free agent who has a known problem with the manager.
According to a George King report, Robinson Cano was no fan of Girardi.
According to three people who know Cano, he didn't enjoy playing for manager Joe Girardi and that may have factored into the decision, though the Mariners giving him $60 million more than the Yankees offered ($175 million) likely had more to do with him leaving.

"Robbie didn't like batting second, he wanted to bat in the middle of the order," one person said. "The Yankees wanted him second because that was best for the team. He wanted to hit in the middle of the order to drive in runs [to increase his value]."
This could just be sour grapes; we do see that kind of behavior frequently from Boston writers when players leave the Red Sox. After all, if Cano batted lower in the order he might not have driven in any more runs. It's not as though the Yanks were awash in players who could get on base for Cano.
(For what it's worth, Cano did hit .308/.396/.560 in 182 PA batting second.)
Money won the day, no doubt. But perhaps Cano's displeasure with Girardi was one among many reasons the Yankees declined to increase their offer beyond seven years and $175 million.
Spending spree
Despite losing Cano, the Yankees have spent lavishly so far this off-season. To be exact: $299 million on Brian McCann, Jacoby Ellsbury, Hiroki Kuroda, and Carlos Beltran. I've seen fans and media alike questioning how the Yankees spent so much on these players, particularly Ellsbury, and didn't go the extra mile of five for Cano. There is certainly some sense to their spending, as wunderkind Chris Cotillo of MLB Daily Dish notes:
#Yankees have committed 16 years, $299 million to Kuroda, Ellsbury, McCann and Beltran. Grandy and Cano got 14 years, $300 million combined.

— Chris Cotillo (@ChrisCotillo) December 7, 2013
In other words, the Yankees eschewed re-signing their star in order to spread money among many different positions of need. That number will look a lot different by the end of December, since the Yankees have plenty of remaining needs. But their overall strategy remains clear: don't get caught up in too-long contracts and spread the wealth. You can disagree about its effectiveness, but it's nice to see that they have a plan, because…
Dysfunctional Seattle
This article by Geoff Baker has made its rounds, so perhaps you've seen it. If not, it's an eye-opening look into the Seattle front office. They're painted as arrogant fools who surround themselves with yes-men, rather than people whose dissenting opinions could help the team make stronger, more informed decisions. Given Seattle's woes in the last few years, including their lack of success with young players, it comes as little surprise that the front office has its issues.
(The article actually goes well with the book I'm currently reading.)
Baker talks to only former employees, so the story would probably look better if the other side told its half. Still, that Baker got two former employees to talk on the record is pretty remarkable in today's environment of anonymous hatchet jobs. The Seattle organization seems to be the polar opposite of the Cardinals, which you can read about in this Q&A at FanGraphs.