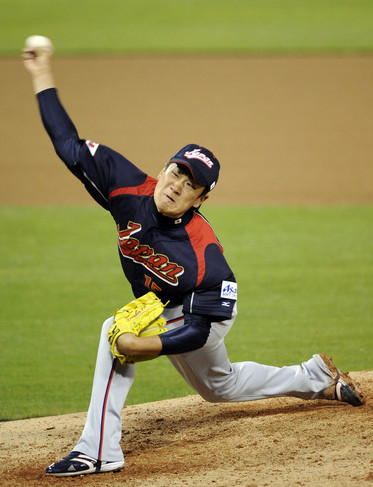 Three weeks and one day from now, Masahiro Tanaka's 30-day negotiating window will close. He'll either sign with one of the 30 MLB clubs prior to 5pm ET on January 24th or he'll return to the Rakuten Golden Eagles in Japan for another season. I would bet a lot of money on the former. A lot.
The Yankees have already contacted Tanaka's agent Casey Close — Close also represents Derek Jeter, but I don't think that automatically gives them some kind of advantage. Close represents plenty of star-caliber players — and they're expected to pursue him very aggressively. He was their top pitching target coming into the offseason and nothing has changed despite the team's early-winter spending spree and the revised posting system.
That new posting system has completely changed the market for Japanese players. Rather than having teams place a blind bid to win exclusive negotiating rights, Tanaka is essentially a free agent with a $20M surcharge. Whichever team signs him sends the extra $20M to Rakuten, otherwise any team can talk to him for free. His contract will be much larger than fellow Japanese hurlers like Yu Darvish and Daisuke Matsuzaka. His negotiating leverage is enormous.
Of course, Tanaka is still the same pitcher today that he was a few weeks ago, before the posting process was revising. His earning potential changed dramatically but his pitching skill did not. There are questions about his ability to translate from NPB to MLB just like there are with every Japanese pitcher. Some team will pay through the nose because they believe Tanaka can make the transition seamlessly. What's an appropriate contract though? Let's look at some benchmarks.
Seven years, $175M-180M
These are the Felix Hernandez ($175M) and Justin Verlander ($180M) contracts, which are essentially tied for the largest pitching contract in baseball history. Clayton Kershaw will smash these numbers at some point in the next 13 months one way or another, but it's unlikely to happen before Tanaka signs. Felix was only one year older than Tanaka is now when he signed his extension, making him the most age appropriate comparable we have. A lot more than age will be considered, obviously.
Seven years, $161M
This is CC Sabathia's original contract with the Yankees, which was then the largest pitching contract in history. He was three years older than Tanaka when he signed and his track record of durability was insane. Tanaka has been a horse in Japan but not on Sabathia's level when he first signed with New York.
Six years, $144M-147M
Cole Hamels ($144M) and Zack Greinke ($147M). Both guys signed their deals at age 29 (four years older than Tanaka) and were low-level aces. Highly durable and among the best pitchers in the baseball for sure, but inconsistent enough to keep them just outside the game's truly elite. Based on everything we've heard in recent weeks and months, that's the kind of pitcher Tanaka may settle in as in MLB.
Six years, $120-124M
These numbers come from the FanGraphs crowd, which has been surprisingly accurate the last two winters. The masses tend to be pretty solid guessers, it turns out. This is more or less Matt Cain's recent extension with the Giants (six years, $127.5M), though he surely would have gotten more as a free agent. Cain was three years older than Tanaka is now when he signed.
Six years, $100M
No pitcher in baseball history has signed a contract in this neighborhood. The closest are Kevin Brown (seven years, $105M) more than a decade ago and Adam Wainwright (five years, $97.5M) a few months ago, but that extra year changes everything. Both guys were over 30 when they signed as well. I'm including this contract in the post just because we need something between the FanGraphs crowd and…
Five years, $77.5M-82.5M
C.J. Wilson ($77.5M), A.J. Burnett ($82.5M), and John Lackey ($82.5M) territory. This has become the benchmark for very good and occasionally great starters, innings eaters who fit best as the number two guy in their rotation. All three of these guys signed their contracts after their 30th birthday, however. Tanaka just turned 25 in November and that's a huge part of his appeal.
Six years, $51M-$60M
These are the contracts Dice-K ($51M) and Darvish ($60M) settled for when they came over to MLB. It's worth noting Darvish can opt out of the final year and $11M of his contract if he meets some Cy Young voting criteria. It is very hard to see Tanaka settling for a deal of this size. Even five years and $51M-60M seems light. We can never really rule out this type of contract, but it is worst case scenario (for Tanaka and Close) kinda stuff.
* * *
Tanaka's eventual contract is tailor-made for a poll, so let's do that. Just to be clear, this poll is asking how much you would give Tanaka, not how much you think he will eventually receive. I'm curious to know how you folks value him, not how you think teams will value him. FanGraphs did that already. Is that clear? Good. Vote away.
UPDATE: I broke the poll somehow. Please enter your vote again. Thanks.
What's the most you would offer Tanaka?