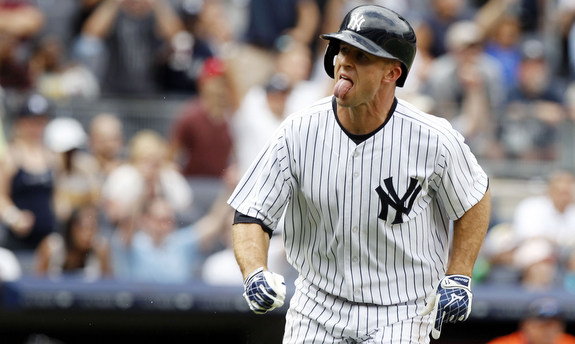 For the first time in a long time, the Yankees have signed a homegrown player long-term. Jon Heyman and Jack Curry report the team has agreed to a four-year contract worth a guaranteed $52M with outfielder Brett Gardner. The deal includes a $12.5M club option ($2M buyout) for a fifth year and it kicks in next season, so the contract covers 2015-18 and potentially 2019. Brian Cashman told Curry negotiations began way back during the Winter Meetings.
"I love it here, I love everybody in the organization, the coaching staff and all my teammates and this is where I want to be," said Gardner to Erik Boland, Jorge Castillo, and Mark Feinsand. "Free agency is something that kind of intrigued me, but it also kind of scared me. I've never been anywhere else … I made it known to them that I wanted to stay here and be a part of this. I learned from guys that come from other places that there's no better place to play, so I look forward to staying here and helping the team win."
The Yankees and Gardner avoided arbitration by agreeing to a one-year contract worth $5.6M a few weeks ago, so consider this one big five-year, $58.6M deal with an option for a sixth year. Joel Sherman says the contract will pay Gardner exactly $12.5M annually from 2015-18, and he gets a $1M bonus if he is traded during the life of the deal. Curry adds the contract does not include a no-trade clause. Gardner asked for one but the team was unwilling to do it.
The four-year deal is right in line with the four-year, $48M contract the Indians gave Michael Bourn last spring. Gardner gets an extra million bucks per year — chalk that up to inflation — but his option is a club option, not a vesting option like Bourn's. Given the contracts handed out this offseason, Gardner might have been able to get five gauranteed years had he hit free agency after this season as scheduled. He and Bourn are two very similar players who signed very similar contracts at the same age. Have to believe Bourn's deal was the framework for this extension.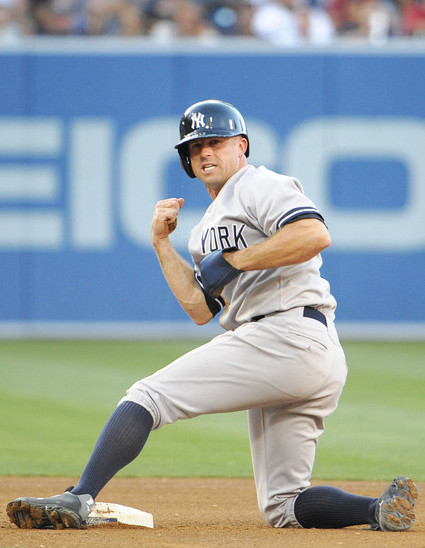 Gardner, 30, was the team's third round pick in the 2005 draft after walking on at the College of Charleston. He hit .273/.344/.416 (108 wRC+) with 24 stolen bases last year while setting career highs in plate appearances (609), hits (147), doubles (33), triples (ten), and homers (eight). He's a career .268/.352/.381 (101 wRC+) hitter with two 40+ steal seasons to his credit. As you know, Gardner is a top notch defensive outfielder, though he will now slide back to left field with Jacoby Ellsbury and his $153M contract on board. The Yankees obviously value having two premium defensive players in the outfield.
As with every long-term contract, this deal comes with risk for the team. Gardner has not been the most durable player throughout his career, most notably missing almost the entire 2012 season due to an elbow injury and a series of setbacks. He's also had thumb (2009), wrist (2010), and oblique (2013) problems over the years. The good news is that none of the injuries involved his legs, Gardner's money-maker(s).
Just the other day I said I didn't expect the Yankees to re-sign Gardner when he hit free agency after the season. I didn't think the team would be open to paying top of the market salaries to two no-power, defense-first outfielders, and I also thought Gardner would prefer to play center field and leadoff, two things that won't happen in New York thanks to Ellsbury. Wrong on both counts, I was.
The signing is a welcome break from the team's archaic no extensions policy, which Cashman confirmed to Feinsand is a thing of the past. The Yankees tried to extend Russell Martin, Hiroki Kuroda, and Robinson Cano prior to free agency in recent years, but to no avail. The last homegrown player to sign a long-term deal with the team before becoming a free agent was Cano, who inked a four-year deal with a pair of club options way back in February 2008, four years before he was due to hit the open market.
The Yankees now have three outfielders signed through 2016, though the smart money is on Carlos Beltran being relegated to DH duty at some point during the life of his three-year contract. There is only one outfield spot open long-term for prospects like Zoilo Almonte, Slade Heathcott, Mason Williams, and Tyler Austin, but only Almonte is close to the big leagues right now, so this isn't even a thing worth worrying about just yet. All of those guys are trade bait, now more than ever.