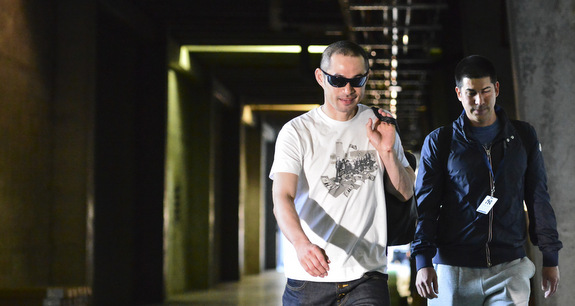 Back during the late-90s dynasty, the Yankees always seemed to have a deep bench laden with former stars who accepted reduced roles. Guys like Wade Boggs, Tim Raines, and Darryl Strawberry all excelled as part-timers during the dynasty years, mostly as platoon players. They accepted their role and adjusted to the reduced playing time, helping the team as high-end role players.
In Ichiro Suzuki, the 2014 Yankees will also feature a former star in a part-time role. The club has added three outfielders to Brett Gardner in the last seven months (Alfonso Soriano, Carlos Beltran, Jacoby Ellsbury), pushing the 40-year-old Ichiro into what amounts to a glorified fifth outfielder role. If the season started today, he would be a pinch-runner and come off the bench as a defensive replacement in right field. That's it.
Needless to say, being a part-timer will be a new experience for Ichiro. This dude is a global superstar who has been an everyday player since 1994, and when it's all said and done, he'll be inducted into the Hall of Fame in two countries. His skills have slipped with age though, and last year he hit only .262/.297/.342 (75 OPS+) in 555 plate appearances. The Yankees had to replace him as their everyday right fielder if they wanted to contend. Ichiro now has to adjust to a new role.
"This is a place where the greatest players gather and play, so I'm really excited to play with those guys," said Ichiro to Chad Jennings yesterday. "Obviously with the additions, I'm going to have to find a place for myself, but I worked hard this offseason. I worked on a lot of things, and throughout Spring Training, hopefully those things will come together and we'll see where it goes from there."
I actually think that, given his skillset, Ichiro would be excellent in his current role. His defense did fall off a bit last year but it was still solidly above-average, plus he remains a stolen base threat and a smart base-runner. I think experience is something that can very valuable in role players; you know Ichiro will make the smart base-running play and be in good position defensively. Speed and defense are the things he can still offer his team. He just can't hit anymore.
The question isn't so much if Suzuki still has the skills to be a pinch-runner or defensive replacement (I believe he does), but whether he can adjust to that role. Going from an everyday player to a part-timer is tough. Veteran plays tend to be set with their routines and finding a new one is difficult. Staying sharp when you aren't on the field everyday is not something guys can do with a snap of the fingers. Being a productive bench player is something of an art.
The Yankees shopped Ichiro in trades this offseason but weren't able to find a taker, so at this point it seems likely he will open the season with the team. I don't think it's reasonable to expect him to be as productive as Raines was back in the day, but I think Ichiro could be one of the best backup outfielders in baseball this year, as long as he figures out how to/is willing to adjust to decreased playing time. He can definitely be an asset to the Yankees off the bench if he does make that adjustment.