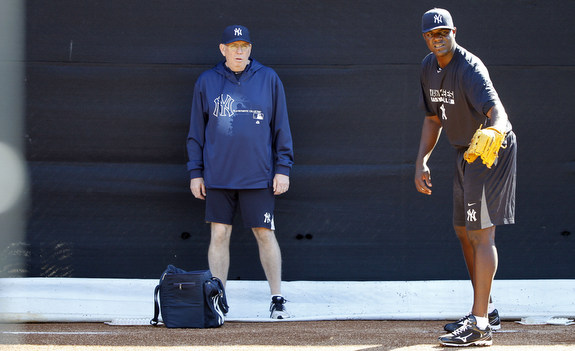 There is nothing quite like the first few days of Spring Training, before position players even show up to camp. Pitchers aren't doing much more than throwing in the bullpen or facing hitters during live batting practice, yet they all seem to look great and are poised for a big season. Just the other day Blue Jays manager John Gibbons told John Lott that Brandon Morrow "looks like a good, strong, starting, durable pitcher." If that's not a sign of early Spring Training optimism, nothing is.
The Yankees, of course, are no different. John Ryan Murphy (weird) told Andrew Marchand that Masahiro Tanaka was "very impressive" during his second bullpen session yesterday and that's great. It doesn't really mean anything though. Hitters will tell us how impressive Tanaka is once he gets into an actual game in a few weeks. But still, this is the time of year when everyone gets excited about everything and so far the team's new high-priced right-hander looks as good as advertised.
Tanaka is not the only pitcher in camp who is something of an unknown. Not even close, really. In fact, I consider Michael Pineda an even bigger unknown after missing two years due to major shoulder surgery. At least Tanaka spent the last few seasons pitching against a reasonably high level of competition. Pineda has thrown two bullpen sessions since Spring Training opened last Friday — including 35 pitches on Monday — and he has looked great, because of course.
"I thought the ball was coming out easier [than last spring]," said Joe Girardi to Chad Jennings on Monday. "I know he's had time to clean up a couple things too, mechanically, in this two-year span. He just looked like it came out free and easy to me. Didn't look like he put a ton of effort into it, or that he was overthrowing it. … To me, it looked different than what I saw a couple years ago when he got hurt and was pitching in games. I'm anxious to see him obviously get in some games in the next 12 days or so."
Pineda is the perfect example of how this time of year lends itself to getting excited about a player, no matter what hurdles they have to clear. He hasn't thrown a Major League pitch in two years and he wasn't exactly a finished product before he got hurt either. Remember how he needed to develop a changeup and was fly ball prone? Those issues didn't disappear as he rehabbed from shoulder surgery. Pineda says he's the same guy he was before the injury — "I'm feeling so strong. I'm feeling good power … I'm throwing the same. Mechanics the same. Everything is the same. All pitches are the same. I'm the same Michael Pineda," he said to Jennings — which means there is still development to be done before he lives up to his potential.
And yet, there are plenty of reasons to be excited about Pineda in 2014. He is finally healthy, first and foremost. He turned only 25 just last month. During that 2011 season with the Mariners, he became the only rookie pitcher in baseball history with a 9.0+ K/9 and sub-3.0 BB/9. That's really impressive. Michael Pineda finally being healthy and in position to help the Yankees this year is exciting even if so many questions remain.
There will be plenty of time to worry and fret about Pineda and every other part of the Yankees over the next few months. Trust me, it'll happen. Pineda will have back-to-back crappy starts at some point and we'll all wonder if he's breaking down again. The Yankees will lose like four games in a row and we'll all worry things will never turn around. That's just the nature of the beast. This time of year is different though. This is the time of year when everything is a reason to be excited, including Pineda's early bullpen work.