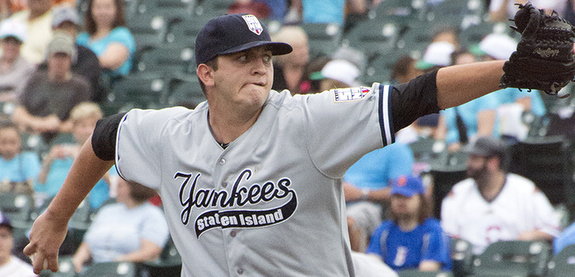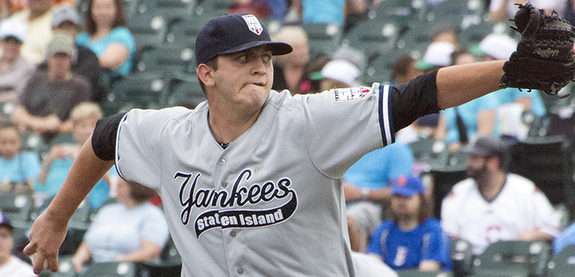 David Palladino | RHP
Background
Palladino is a local kid from Emerson, New Jersey. He spent his freshman and sophomore years of high school at Paramus Catholic High School before transferring to Emerson High School for his junior and senior years. Palladino earned First Team All-League and First Team All-Bergen County honors in both baseball and basketball in high school, and he was named North Jersey Baseball Player of the Year after pitching to a 1.08 ERA with 19 hits allowed and 131 strikeouts in 72.1 innings as a senior. He also hit .494/.573/.872 with eight homers that year.
Despite the decorated prep career, Baseball America (subs. req'd) did not rank Palladino as one of the 13 best prospects in New Jersey prior to the 2011 draft. The Dodgers selected him in the 13th round (404th overall) but he did not sign and instead followed through on his commitment to the University of South Carolina Upstate. He threw only 38 innings as a freshman with the Spartans (5.21 ERA and 40/23 K/BB) because he hurt his knee and needed surgery to repair tendon damage.
Palladino transferred to Howard College in Texas for his sophomore year, posting a 2.18 ERA with a 99/29 K/BB in 70.1 innings last spring. Draft eligible as a sophomore because he transferred to a two-year school, Baseball America (no subs. req'd) ranked Palladino as the 38th best prospect in Texas and 304th best prospect overall for the 2013 draft. The Yankees selected him with their fifth round pick (164th overall) and signed him for $371k, roughly $90k above slot. As a draft-eligible sophomore planning to transfer for LSU for his junior year, Palladino had some negotiating leverage, hence the overslot bonus.
Pro Debut
The Yankees assigned the 20-year-old Palladino to Short Season Staten Island after signing. His workload was limited, which is why he threw only 54 innings across 12 starts and three relief appearances. Palladino managed a 4.67 ERA (3.85 FIP) with a bunch of strikeouts (8.17 K/9 and 20.3 K%) and a bunch of walks (4.33 BB/9 and 10.8 BB%) during his limited time with the Baby Bombers.
Scouting Report
First things first: Palladino is a massive human. He is listed at 6-foot-9 and 235 lbs., making him one of the tallest players in professional baseball. That size allows him to pitch downhill effectively and even though he is pretty athletic, repeating mechanics and keeping those long limbs in check is always an issue for tall pitchers. I can't imagine Palladino will be any different.
Palladino throws easy gas, sitting 90-93 mph with his fastball with minimal effort, and he can reach back for 96-97 when he needs something more. A big-breaking mid-70s curveball is his top secondary offering and he also throws a changeup that tumbles away from lefties. He scrapped a splitter in favor of the changeup last spring. A low-80s slider is his fourth pitch. Palladino's command comes and goes, plus he isn't particularly quick off the mound or adept at fielding his position. I can't find any decent video. Sorry.
2014 Outlook
I'm guessing the Yankees will have Palladino open the coming season in the Low-A Charleston rotation. An assignment to High-A Tampa would be pretty aggressive for a guy who threw only 108.1 innings in college and would only be entering his junior season this spring. It would surprise me if the Yankees held him back in Extended Spring Training, but as a tall pitcher who needs to figure out a consistent delivery, it could happen.
My Take
Big fan. Palladino already has a four-pitch arsenal and his huge build makes me think he'll develop into a workhorse starter long-term. In addition to the mechanics, Palladino probably needs to develop one of his three offspeed pitches into a true out pitch to reach his ceiling and that's fine. We're talking about a fifth round pick who signed for less than $400k. Of course there was going to be something to work on. I'm looking forward to seeing what he does with the River Dogs this summer and whether he makes the jump from interesting arm to legitimate big league prospect.