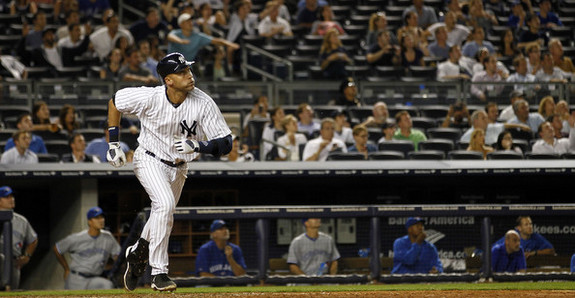 Last summer, Joe Girardi was forced to fill out his lineup card by putting the hottest hitters around Robinson Cano on a daily basis. That's how guys like Thomas Neal, Ben Francisco, David Adams, Brennan Boesch, and Zoilo Almonte wound up starting games as high as fifth in the order. Alfonso Soriano settled things down late in the season, but for the most part the lineup was subject to change drastically each and every day.
This coming season figures to be different. Cano is gone, but the Yankees added two middle of the order bats to Soriano in Carlos Beltran and Brian McCann. I expect those three to hit 3-4-5 in whatever order most days, or maybe we should add Mark Teixeira and make it 3-4-5-6. That seems very likely. The team didn't give Jaocby Ellsbury over $20M a year not to leadoff, so he'll displace Brett Gardner atop the lineup. Girardi's biggest lineup question this year might be who the number two hitter behind Ellsbury and ahead of that 3-4-5(-6) group will be.
Traditionally, the number two hitter is someone who can handle the bat and bunt all do all that nonsense. For the Yankees, a team built around power hitters who play in a tiny home ballpark in a division full of tiny ballparks, the number two hitter should function as a second leadoff guy trying to get on base for the middle of the order. Furthermore, given Ellsbury's speed, the two-hole hitter should also be someone who is patient and gives him a chance to run. If you're not going to do that, it defeats the point of paying a premium to add an elite base-stealer. Ellsbury has to steal to really have an impact.
The Yankees have two obvious number two hitter candidates in Gardner and Derek Jeter. Jeter has been batting second almost his entire career and I suspect that as long as he's healthy, he'll open the season behind Ellsbury in the lineup. That's fine. Jeter was very good in his last full season and he's earned the opportunity to show whether he can do that again despite his age and the lost 2013 season. The Cap'n isn't especially patient (3.78 pitches per plate appearance from 2011-13) and is very double play prone (GIDP'd in 19% of opportunities from 2011-13), two traits that aren't ideal for the second spot in the lineup. That's never stopped him from hitting there before though.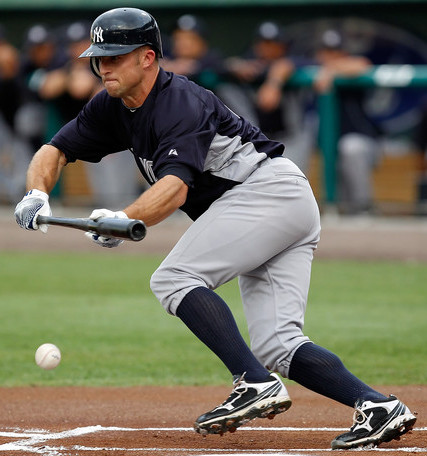 Gardner, on the other hand, is very patient (4.21 P/PA from 2011-13) and he rarely grounds into double plays (7 GIDP% from 2011-13) thanks to his speed. He's a much better fit for the two-hole in that sense, at least against right-handers. Jeter has destroyed lefties his entire career and if he continues to do that in 2014, he'll deserve a prominent lineup spot against southpaws. A Gardner vs. righties/Jeter vs. lefties platoon in the second spot behind Ellsbury seems ideal if Jeter struggles against same-side hitters.
The question is how long should the Yankees give Derek to prove he can still be a productive hitter given his age and recent injuries? A month? Six weeks? Half a season? I don't know the answer and it probably depends on how Jeter looks during games. If he's completely overmatched and unable to lift the ball — sorta like how he looked during his limited time last year — the team will have to pull the plug on him as a number two hitter sooner rather than later. At least against righties. It won't be a pleasant move to make but it may be necessary at some point rather soon.
There has been a ton of research showing the two-hole is the most important lineup spot and thus your best hitter should bat second, but that only applies over a full season, and even then the impact is relatively small. Optimizing your lineup in such a way that it makes a meaningful difference across 162 games isn't all that practical. Guys get hurt, need days off, get hot and cold, etc. The lineup can make a big difference in an individual game though; I remember at least two instances in which Cano was left on deck while the final out of a close game was recorded last summer (one, two). The Yankees have many reasons to emphasize pure patience and on-base ability from the two-hole this year and if that means Gardner, not Jeter is the best man of the job, so be it. The race for a postseason spot will be too tight to stick with an unproductive hitter near the top of the lineup for so long.